The United States economy and its manufacturing sector are expected to experience moderate growth in 2015, and it could lead to inventory investment for some businesses.
In the Nov. 6 Bloomberg Businessweek article '2015 Global Economic Outlook: Better than 2014, but Not By Much,' Peter Coy reported that the International Monetary Fund predicts 3.2-percent global growth and 3.1-percent growth in the United States.
Additionally, 'manufacturing production is expected to outpace GDP, with anticipated growth of 3.5% in 2015 … and 3.9% in 2016,' according to James Anderton's article, 'US Manufacturing to Outpace GDP,' on Engineering.com. Anderton used data from the MAPI Foundation, the research affiliate of the Manufacturers Alliance for Productivity and Innovation.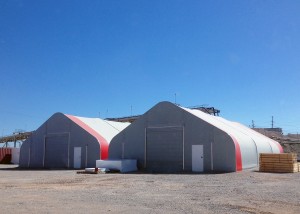 So what do these broad forecasts mean to your business? Are you adding commercial storage facilities, warehousing or workshop space?
WeatherPort® ™ offers a wide range of storage solutions engineered and designed to meet your storage, warehousing and workshop needs.
WeatherPort Heavy Gable Buildings can be used as a small workshop or for equipment storage. At up to 150 feet wide, our truss gable building is our largest structure and a great option for a warehouse project. Our gable buildings and Quonsets are ideally suited for garage storage or for use as permanent or portable commercial storage units.
No matter your outdoor commercial storage needs, WeatherPort Fabric Buildings are up to the task. Our composite fabrics are engineered for use in any climate, and our tensioned membrane structures are more portable and easier to install with less site preparation than metal or brick-and-mortar storage options.
We can design your fabric building to accommodate insulation, electrical and HVAC systems for climate-controlled storage. Every WeatherPort can be customized with unique doors and windows sized to your specifications and eye-catching graphics and logos to promote your brand in a crowded marketplace.
If you want more information or are ready to find a great commercial storage solution, please call us at +1-970-399-5909, email us at info@weatherport.com or fill out our online contact form.