Hotel and Resort Facilities
As hotels and restaurants seek to attract more customers by offering unique experiences and one-of-a-kind venues, they must invest in options that will provide a return on investment. WeatherPort fabric buildings have been used by hotels, resorts, and by the hospitality industry to meet these objectives. WeatherPort building specialists have extensive experience working with hotel managers, general managers, and hospitality executives to create aesthetically pleasing building solutions for all purposes. WeatherPort fabric structures are used by hotels and resorts for the following:
Ballrooms and banquet halls
Convention space and conference centers
Meeting space and pre-function space
Wedding and event space
Cafes and coffee shops
Pool enclosures and pool side cabanas
Fine Dining Restaurants and covered outdoor seating areas
Partially or fully enclosed walkways
Spas and hospitality centers
Entertainment facilities
Recreation facilities and gyms
Exclusive villas
Grounds and maintenance facilities
WeatherPort fabric buildings are engineered to provide guests with an unmatched level of safety, not found in traditional event tents. Our engineered fabric buildings are designed to meet the specific wind and snow loads of your hotel or resort's location, ensuring safety and durability for year-round or seasonal use. WeatherPort fabric buildings provide hotels and resorts with much shorter construction schedules, reducing construction costs while affording the opportunity to quickly provide guests with an aesthetically unique space in a fraction of the time. All WeatherPort hotel and resort facilities can be insulated, climate-controlled, and customized to meet the hospitality needs of the hotel or resort.
If you would like more information, are ready to design a hotel or resort facility, or inquire about expanding your hotel or resort with a WeatherPort fabric building, we encourage you to request a consultation by clicking the button below, or by calling us at (970) 399-5909!
Hotel Developers Turn to Modular Construction
The recent boom in upscale properties has resulted in a full construction pipeline for hotels in the United States, and around the world. Whether it is building a new hotel or renovating an existing one, hotel developers are turning to modular construction to meet the demand for rooms and on-site facilities. WeatherPort fabric buildings are designed with open span interiors up to 150' wide, to any height, and to any length. Need help sizing a WeatherPort structure to accommodate a certain number of guests for an upcoming outdoor event? Be sure to check out our Event Seating Guide!
Our most popular building solutions for hotels and resorts are listed below.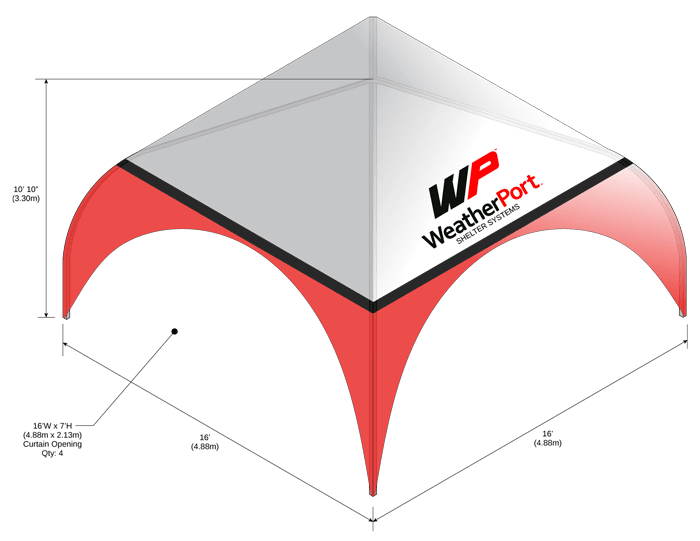 The perfect solution for outdoor events, weddings, covered seating areas, and pool side cabanas. Available with or without side curtains and in many colors and sizes, including our popular 10′ x 10′ option.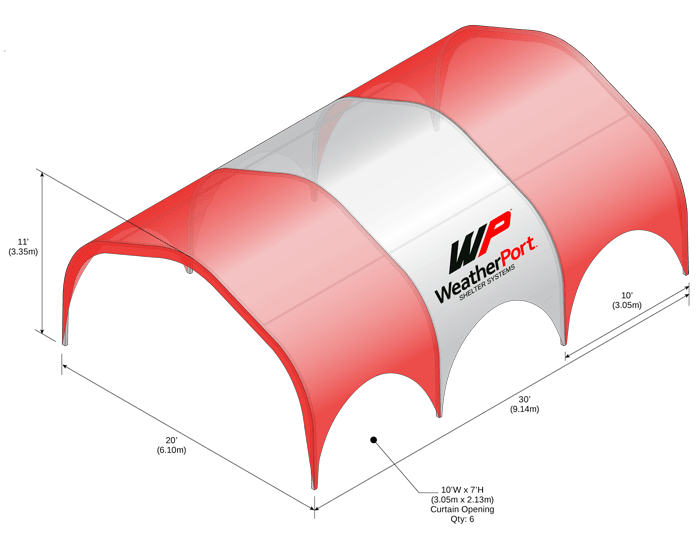 OurJubilee Series provides a robust outdoor solution, available in many sizes, colors, and with or without side curtains. Perfect for large outdoor events or meeting functions!
If you would like to inquire about a larger hotel or resort facility, we encourage you to contact us by requesting a consultation or calling us at (970) 399-5909!
Contact Us Today for Hotel and Resort Facility Pricing
WeatherPort and hotel owners, operation directors, and resort managers think alike. We want to give our customers the best and safest opportunity to enjoy outdoor activities. WeatherPort has been engineering outdoor structures for hotels and resort facilities for safety for over 50 years. Our proven track record is a testament to the thousands of high-end hotel structures we have supplied hotels and resorts around the world. If you would like more information or pricing for a WeatherPort fabric structure, we encourage you to request a consultation by clicking the button below. Alternatively, feel free to call by phone or email us the details of your project!