Fabric Buildings for Auto Dealerships Provide Many Benefits
Space, durability, and versatility are key features of an ideal building for any auto dealership. Whether the vehicle inventory is new, used, or a combination of both, dealership staff need to be able to easily move vehicles within, as well as between indoor and outdoor displays. With traditional buildings, there are a lot of restrictions, limitations, and fewer options for versatility. Especially, once constructed, the costs and time required to modify a traditional building to expand or accommodate items like additional floor space, garage doors instead of double doors, can be prohibitive and result in a loss of business during construction. When it comes to auto dealerships, minimizing disruptions is key to sales.
Tensioned fabric buildings from WeatherPort® offer the greatest amount of flexibility to adapt to each automotive dealerships' constantly changing needs. It is much faster and easier to convert a WeatherPort vehicle storage facility into a 25,000-square foot state-of-the-art luxury showroom, complete with offices, break rooms, restrooms, conference rooms, reception, and a service area than it is to do the same with a conventional or metal building. If you are a dealership owner or general manager and considering at renovating your showroom, or if you are being mandated by manufacturers to modernize your showroom, consider an engineered fabric building from WeatherPort!
WeatherPort fabric structures have been used for a wide range of auto dealer applications, including:
Creating spacious and inviting showrooms for vehicle display
Vehicle storage facilities
Vehicle inspection centers
New vehicle delivery booths
Service kiosks
Covered parking for service check-in areas
Temporary offices used during auto dealership construction or showroom expansion projects
Permanent sales offices or administrative office space
Car detailing stations
Fabric structures from WeatherPort provide many advantages for car dealerships compared to traditional and modular buildings. Each WeatherPort fabric structure designed for automotive dealerships, showrooms, or offices is built to your specification, and engineered to meet local or international building codes for durability and safety. Our engineered fabric buildings set up in a fraction of the time required to construct a traditional, concrete tilt-up, or a metal building, and requires less pre-construction site work, saving both time, labor, and construction costs. In fact, an engineered fabric building from WeatherPort can be installed on most level surfaces, including asphalt, pavement, or concrete. Pare down turnaround times with dealership renovation or expansion projects by choosing an engineered and tensioned fabric building system from WeatherPort!
To learn more about the versatility or benefits of our engineered fabric structures, or to design a showroom using a WeatherPort, please call us at 970-399-5909 or click the button below to request a consultation with one of our building specialists!
Dealership Renovations and Dealership Expansion Made Easy with WeatherPort Fabric Buildings
For a half century, WeatherPort has led the automotive dealer industry as the premier provider of engineered fabric buildings, offering dealerships an unmatched level of durability, longevity, drastically reduced turnaround times, and creating modern and unique sales environments. Nearly every facet of our building systems can be custom configured to meet your exact showroom expansion, dealer renovation, or dealership construction project.
Start designing a showroom utilizing an engineered fabric building from WeatherPort today! We make the process easy. WeatherPort building specialists have vast experience working closely with dealership owners, general managers, architectural firms, contractors, and construction companies. We understand the importance of reducing turnaround time for dealership construction and showroom renovations projects, as well as working around dealers' schedules.
Want a fabric building to stand out and promote your dealership or vehicle brand? WeatherPort is one of a couple engineered fabric building manufactures in the world that has the in-house capability to print vivid and high quality graphics, logos, or branding messages directly onto our architectural membranes. The ability to brand and print custom designs in-house allows us to control the entire manufacturing process of our building systems, and offer our dealership customers a savings in production costs and time.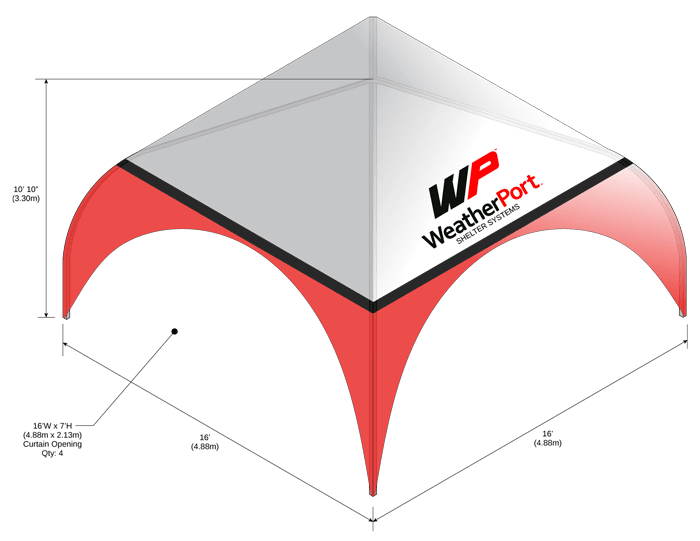 For vehicle displays and dealership showcasing, the WeatherPort Canopy Series is perfect for car dealerships wanting a custom canopy to draw attention and generate sales. Curtains, doors, and a myriad of window treatments can be added to enclose the canopy structure, or to create a protected enclosure for vehicle storage, as well to create detail and wash bays. Our canopy series buildings can be scaled from 10′ x 10′ to 20′ x 20′, with customization options including lightweight aluminum or heavy-duty steel frames, powder coating, as well as a large selection of fabric colors, patterns, and branding options to truly make your WeatherPort Canopy help you sell more automobiles! Learn more about the WeatherPort Canopy by clicking the button below.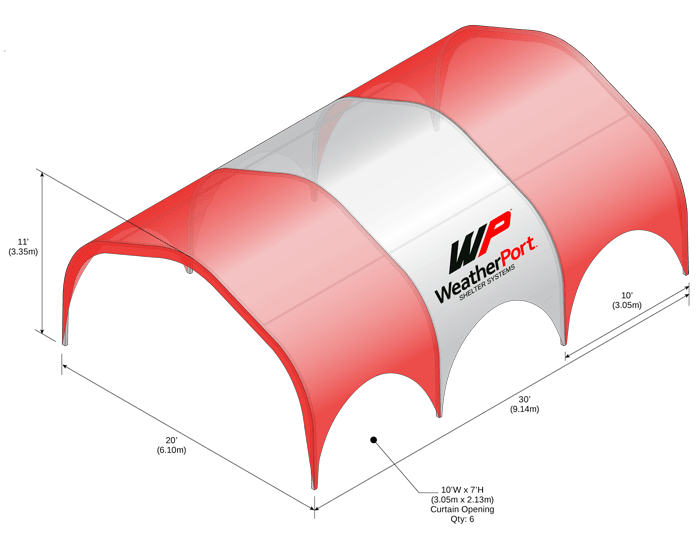 For building applications requiring a larger covered outdoor space, the WeatherPort Jubilee Series offers a scalable solution for outdoor events, promotions, vehicle storage, service department entrances, loaner vehicle storage, vehicle inspection buildings …just to name a few! Available in widths up to 24' wide and customizable to any length (in increments of 10'), the Jubilee Series offers a open span architecture for maximum use of interior space. Customize your Jubilee Series structure by adding side curtains, doors, and windows. Our Jubilee Series buildings are engineered to function year-round and will last decades, providing auto dealerships a better return on investment than your typical party tent. To learn more about the Jubilee Series from WeatherPort, click the button below.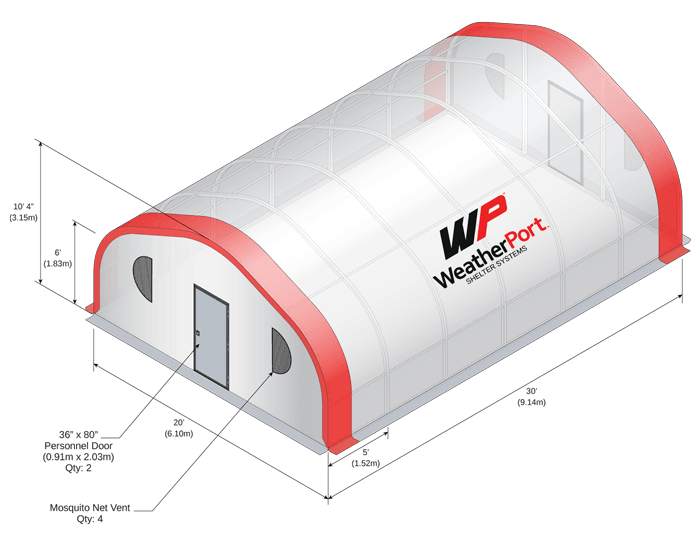 The HGB Series from WeatherPort is a heavy-duty single arch fabric building engineered for locations with high winds and heavy snow loads. Available in widths from 16' to 30', and customizable to any height or length, the HGB Series offers a ruggedly durable structure for any car dealership application. The 'soft' eave design of the HGB Series provides auto dealerships a weatherproof structure that can be designed with your choice of fabric colors, color patterns, printed logos and branding, as well as the ability to insulate and heat or cool the HGB Series structures, just as you would a conventional building. To learn more about the WeatherPort HGB Series, click the button below.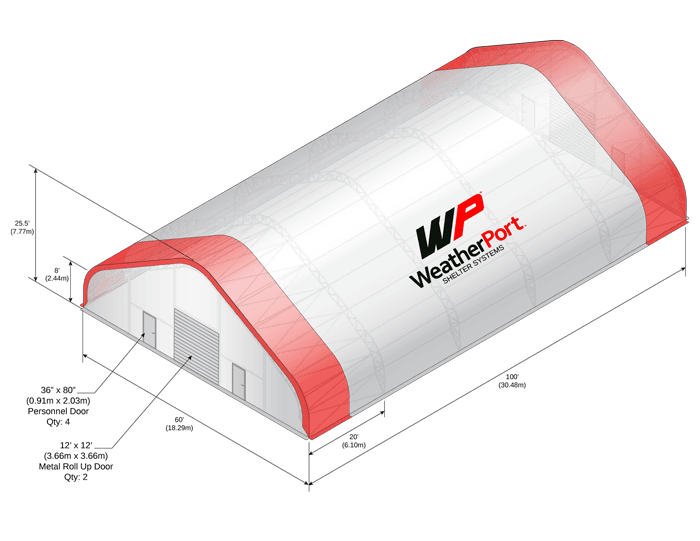 When you need a large car dealership facility with capacity to protect or showcase dozens or even hundreds of vehicles, our DAGB Series building is the ideal WeatherPort building series. Our heavy-duty double arch gable buildings are highly durable, engineered for portability, can be scaled up to 150' wide, to any height and length to create a truly one-of-a-kind auto dealership of any size. The WeatherPort DAGB Series structures are designed for rapid setup and offer shorter construction times than conventional buildings – saving both time and money! The DAGB Series buildings can be custom designed with a wide assortment of window and door treatments, skylights, insulation, HVAC systems, lighting and electrical systems to create a state-of-the-art dealership complete with a show floor, sales offices, finance and administration offices, service desk, and service waiting area! To learn more about the versatile DAGB Series building system from WeatherPort, click the button below.
Custom Design an Auto Dealership Facility Today
All WeatherPort engineered building systems, from our open-air Canopy and Jubilee Series, to the enclosed HGB and DAGB Series structures, can be designed to provide an unmatched level of coverage to store, protect, and showcase vehicles in an unlimited number of ways. Our fabric buildings can be custom designed to create auto dealership structures for any application.
Start by determining the size of the dealership facility you need. Then choose the ideal WeatherPort building series, noting what are the important features and customization options you would like to include. A friendly WeatherPort building specialists will work with you from start to finish to help design the ultimate car dealership building system.
All WeatherPort building systems are engineered to meet the latest local and international building codes for safety, and are manufactured in a state-of-the-art facility using high quality materials to produce a building system that will endure just about any type of weather Mother Nature can conjure. Our architectural membranes are made of a proprietary PVC-based blend, impregnated with UV stabilizer, that will not rot, is resistant to mold and mildew, and exceeds the California Code of Regulations (CCR) for membrane structures. Our high-strength frame systems are made of lightweight aluminum or galvanized steel, and can be powder coated with a wide range of colors for aesthetics as well as another layer of protection against corrosion.
Rely on our 50-plus years of proven experience, providing auto dealership with engineered fabric buildings that last longer, provide a greater return on investment, and offer an unrivaled level of customization when compared to other modular building systems. Contact us today to begin designing your custom car dealership building!