Ski Lodge and Ski Resort Facilities
With so many world-renowned ski resorts and ski parks like Breckenridge Ski Resort, Vail Mountain Resort, and Aspen Mountain Ski Resort in our own backyard, combined with our team's love and affinity for outdoor adventures, it only makes sense that WeatherPort®, a Colorado based company since 1968, would be the world's leading provider of ski lodge and ski resort facilities around the world. Whether it is for a ski rental shop, ski equipment storage, ski school, ski start gates, dining facilities, or a ski lounge -WeatherPort custom designs ski structures that seamlessly integrate with the beauty of natural surroundings as well as other ski resort facilities to provide guests an aesthetically unique and safe space to try on or rent new gear, warm up, enjoy a warm drink, and rest up before getting back out there and carving the perfect line.
WeatherPort ski lodges and ski resort facilities offer an uncompromising degree of safety. We engineer each of our tensioned fabric structures for your ski resort's specific wind and snow loads. Other building companies claim their buildings will "shed" snow. In reality, this means they reduce the amount of engineering and intentionally design their buildings to not meet the required snow load. Being from Colorado,we know given the right circumstances, snow will stick to just about anything. Our 50-plus years of engineering fabric buildings for extreme conditions has taught us not to rely on snow shedding, and instead engineer skiing lodges and ski resort facilities to withstand the snow loads required by local building codes.
If you would like more information, are ready to design a ski lodge, or inquire about expanding your ski resort facilities, we encourage you to request a consultation by clicking the button below, or by calling us at (970) 399-5909!
Design a Ski Lodge or Ski Resort Facility
WeatherPort building specialists are here to help you every step of the way. Design a ski lodge with energy-efficient insulation and climate control systems to maintain a comfortable interior space for guests. Reduce energy costs by utilizing natural light with one of our many sky light packages. Choose from a large selection of windows and door options. All of our engineered fabric buildings have minimal foundation requirements, offering much shorter construction times when compared to building a ski lodge using typical construction methods and materials.
Choose from a wide selection of building styles for your next ski lodge or ski resort facility: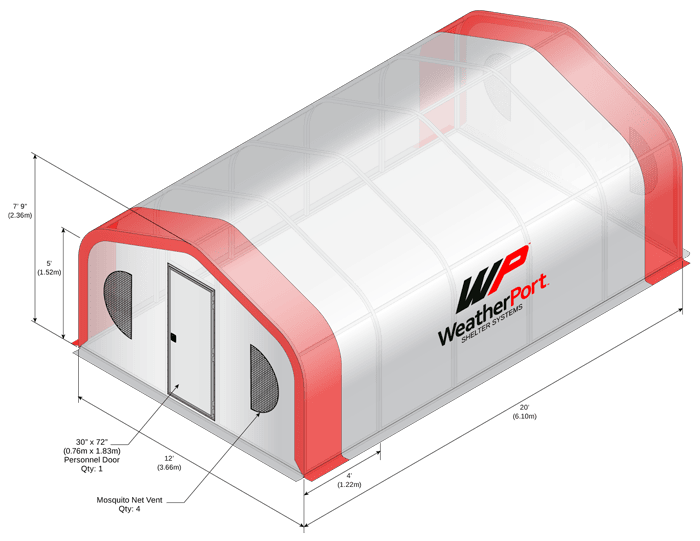 The straight-wall design of the GB Series allows for maximum use of interior space. Great for rental shops, housing, base camps, and small dining hallsup to 24' wide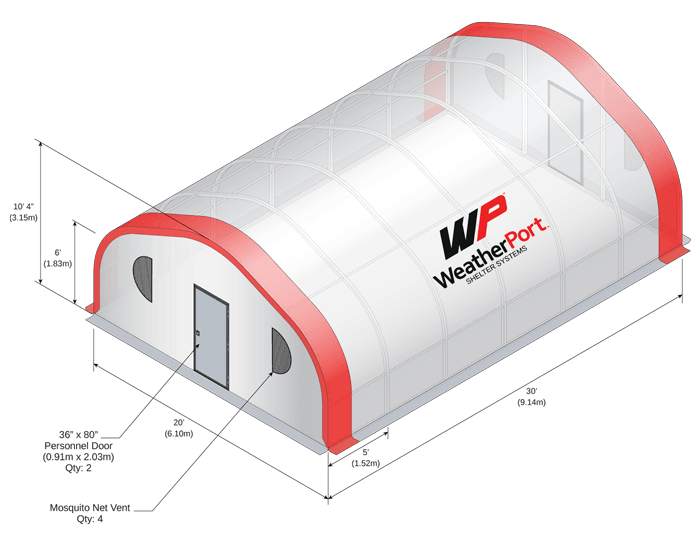 Our heavy-duty structure up to 30' wide. Perfect for areas with strong winds and heavy snow loads. A multi-purpose fabric building capable of meeting any ski resort need!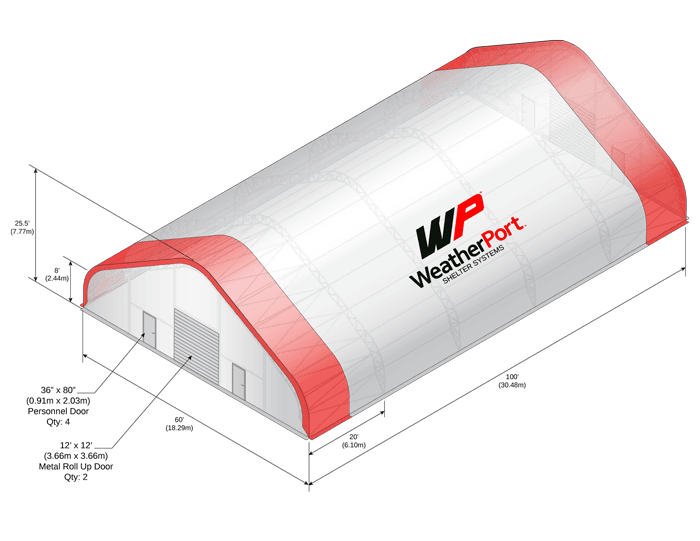 Large fabric buildings from 30' wide to 150' wide, to any height or length. Custom designed to meet any ski resort or ski park building requirement.
Rely on our proven experience and expertise in providing custom designed ski lodges and ski resort facilities by requesting a consultation today!
Ski Structure Sizes
Design a ski lodge or ski resort facility from 8' wide to 150' wide, and to any length or height. All of our ski lodge and ski structures are free standing, meaning no internal support columns and maximum use of interior space.
Insulation Packages for Ski Lodges
Provide guests with a comfortable interior while reducing energy usage and costs by incorporating an insulation package capable of meeting any R-Value into the design of your ski lodge or ski resort facility.
HVAC Systems for Ski Lodges
Quickly heat and maintain a comfortable interior temperature for any WeatherPort ski lodge or ski resort structure, as well as maintain proper air flow with commercial grade HVAC systems.
Doors and Windows
Customize your ski lodge or ski resort facility with a large selection of equipment doors including metal roll-up doors, as well as personnel doors and window options.
Sky Light Package
Reduce energy costs and utilize natural light during the day with our sky light package. The opaque material offers a higher amount of light transmissions and diffuses direct sunlight to create a soft interior glow.
Stove Pipe Flanges
Want to have a wood burning fireplace inside your WeatherPort ski lodge or ski resort facility? No problem. Our stove pipe flanges allow the safe venting of stove, chimney, or other heating devices to be used inside our structure.
Ski Lodges and Ski Resort Facility Projects
Auburn Ski Training Center
The Auburn Ski Club Training Center in Truckee, California is a non-profit sports facility that allows families and athletes from across Northern California the ability to participate in winter sports and cross country ski. Multiple WeatherPort ski structures are used during the XC Junior Nationals.
Stratton Mountain Resort
Stratton Mountain Resort offers year-round activities, including skiing and snowboarding in the winter. Enjoy shopping, dining, and entertainment at TheVillage. Ready to hit the slopes? Stop by the WeatherPort ski rental shop, gear up,and then take a lift to one of the 97 runs!
Contact Us Today for Ski Lodge or Ski Resort Facility Pricing
WeatherPort and ski resort owners, operation directors, and resort managers think alike. We want to give our customers the best and safest opportunity to enjoy outdoor activities. WeatherPort has been engineering ski lodge and ski resort facilities for safety for more than 50 years. Our proven track record is a testament to the thousands of ski structures we have supplied ski resorts around the world. If you would like more information or pricing for a WeatherPort ski structure, we encourage you to request a consultation by clicking the button below. Alternatively, feel free to call by phone or email us the details of your project!