ENGINEERED CABANAS AND GAZEBOS TO KEEP COOL
Maybe you're enjoying a much-deserved day off and need some shade while lounging in the backyard. Or you are the hotel manager, or a facilities director for an exclusive resort, and in need of high quality outdoor cabanas for guests to enjoy year-round. Available in many different sizes, WeatherPort® offers a large selection of backyard cabanas designs for personal use, as well as commercial cabanas for resorts and hotels. Our engineered fabric structures are made with the highest quality materials, offer an unmatched degree of portability, last longer than other types of cabanas, are easy to install, very low maintenance, can be used year-round or taken down at the end of each season, and can be customized to create the perfect beach or poolside cabana or hot tub gazebo!
ENJOY THE OUTDOORS WITH CABANAS AND GAZEBOS FROM WEATHERPORT
Enjoying the sun is fun. When doing so, there are many health recommendations to take into consideration. Next to drinking plenty of fluids to stay hydrated, it is also recommended to limit harmful UV exposure by using sunscreen and enjoy the outdoors from a shaded location. Cabanas and gazebos from WeatherPort provide the best looking and most shaded protection from the sun. Our tensioned fabric membranes block harmful UV rays, unlike the cloth coverings found on typical outdoor cabanas that only block a limited percentage of UV rays. And while other cabana manufacturers produce UV coated fabrics, WeatherPort incorporates UV stabilizer into the engineering of its tensioned fabric membranes. This process is not only more technically challenging, as well as expensive, but produces a far superior and longer lasting material that will hold up to prolonged exposure to the sun.
Gain peace of mind knowing you, your family, or resort guests will be able to safely enjoy the outdoors longer by resting, cooling down, or finding refuge and savoring a private moment on those hot sunny days in a WeatherPort cabana or gazebo structure!
OUR MOST POPULAR CABANAS AND GAZEBO MODELS
WeatherPort cabanas allow you to quickly transform any outdoor space into an enjoyable shaded area that is perfect for resting, recreation, or hosting outdoor events. With a minimal foundation requirement, our outdoor structures can be quickly setup and installed onto virtually any surface type, including: dirt, gravel, sand, asphalt, concrete, or wooden pool decks. The durability and reliability of our fabric structures provides an aesthetically pleasing and unmatched level of protection from the elements.
The following WeatherPort fabric buildings can be custom configured to meet your outdoor canopy or gazebo structure needs.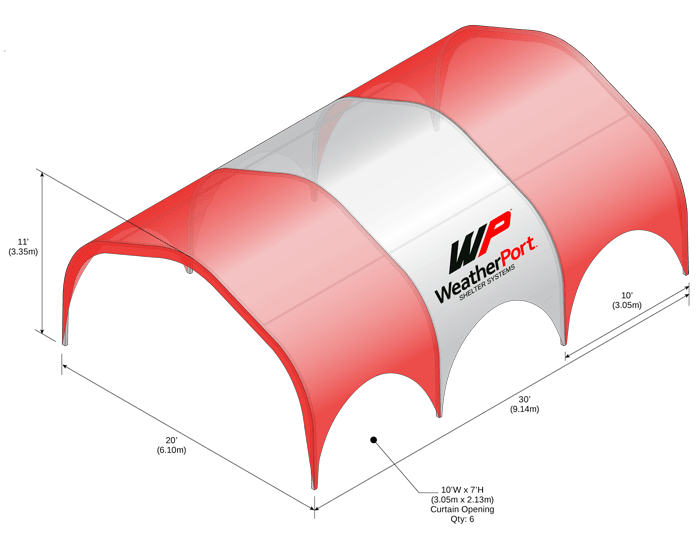 The WeatherPort Jubilee Series is a heavy-duty structure available in widths from 15' wide to 30' wide, and to any length in 10' increments. The unique design of the Jubilee structure creates an outdoor cabana with arched side openings, allowing for airflow as well as easy entry and egress for large parties. Optional curtains with a wide selection of window patterns are available to create a private space or use when the weather doesn't cooperate with your outdoor plans. Click the button below to learn more about the WeatherPort Jubilee Series.
Learn More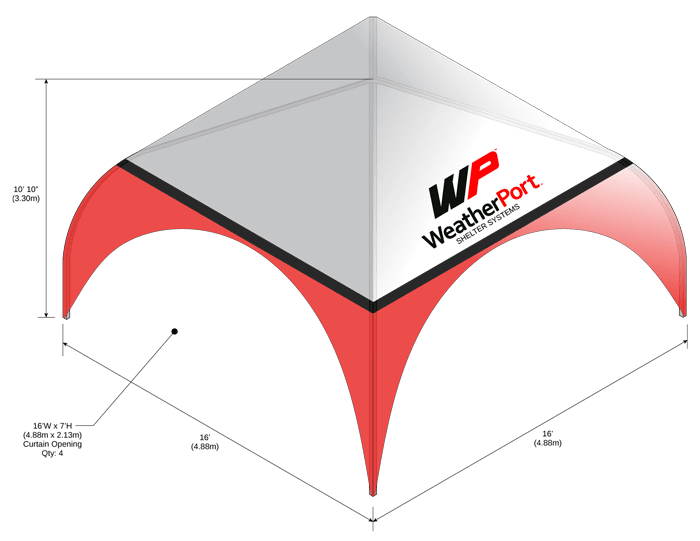 Elegance and function combine to create a unique style of cabanas and gazebos! The Canopy Series from WeatherPort is used to create a covered outdoor space. Available in many different sizes, our most popular sizes include: a 10' x 10' cabana, 12' x 12' cabana, 16' x 16' cabana, and a 20' x 20' cabana. Perfect for small- to medium-sized gatherings, the four-sided WeatherPort Canopy Series can be installed on any surface and is easy to setup and take down. Optional side curtains and a large selection of window treatment options can be installed to create a private outdoor space. Click the button below to learn more about WeatherPort's line of canopy structures!
Learn More
CONTACT US TODAY TO CUSTOM DESIGN A CABANA OR GAZEBO
Whether you're seeking a single cabana or gazebo for your backyard, or looking to upgrade your resort's outdoor area with luxury cabanas to pamper guests, WeatherPort fabric structures offer an unmatched degree of portability, reliable sun protection, and long-lasting durability. Choosing to invest in a WeatherPort fabric structure is a wise investment – financially, for safety and health reasons, for long-term reliability, as well as the ability to customize with a near endless amount of options. All WeatherPort building systems are virtually maintenance free, which means you spend more time enjoying the great outdoors and less time with upkeep!
We produce all our buildings in the USA, using the highest quality materials, and insist on very strict manufacturing protocols, to not only reduce waste, but to create an outdoor cabana or gazebo structure that will provide years' worth of enjoyment.
All our cabana and gazebo models employ a long-lasting PVC based membrane tensioned over a high-strength aluminum or galvanized steel frame. If near the ocean or where sea-spray is prevalent, we offer and provide an in-house powder coating service to add an additional layer of protection against corrosion. Available in a wide selection of colors, the powder coating can help improve the aesthetics or used to promote your brand or resorts color scheme.
When you work with one of our friendly and knowledgeable building specialists, you will be guided thru each step of the design process to choose a fabric color, or create a fabric color pattern, add logos, and choose optional features such as side curtains, to design a cabana or gazebo that will raise the level of any backyard or give guests a private area to enjoy being outdoors. We have extensive experience working with home owners, hotel managers, resort owners or facility directors to make the process both timely and efficient.
Contact us to discuss your cabana or gazebo needs!