Golf Cart Storage and Special Event Structures
Golf courses and golf resorts looking to raise the level of their next outdoor event or golf tournament will find a custom tensioned fabric structure from WeatherPort a nice departure from the boring white canopy tents commonly used in the entertainment industry. Established in 1968, WeatherPort fabric buildings are the preferred event structures and golf cart storage buildings used by premier golf courses and luxury golf resorts around the world. Our highly customizable, versatile,and weatherproof building systems can easily be expanded or re-configured for the following uses:
Golf clubhouses
Golf tournament and special event structures
Banquet halls, weddings,and reception space
Entertainment facilities and hospitality centers
Conference centers and meeting space
Cafes and coffee shops
Restaurants and outdoor covered seating
Golf pro shops and golf club rental shops
Maintenance buildings and grounds keeping facilities
Golf cart storage
Whether it is a special event requiring a sophisticated-elegant design to entertain a handful of distinguished and discerning guests, or a rustic-chic design to delight hundreds of guests with room for seating, a live music band, open bar, and banquet facilities, a WeatherPort special event structure is the perfect outdoor structure for any golf courses and golf resorts looking to provide guests with a unique, aesthetically pleasing, and memorable experience, day or night.
WeatherPort golf cart storage buildings offer golf courses and golf resorts the ability to easily care for and protect golf carts from harsh weather conditions. Choose from simple configurations designed for golf cart storage or customize a golf cart storage building with insulation, lighting, HVAC to create a space that can be used year-round, in any kind of weather. Reduce energy usage by utilizing natural light during the day with our skylight packages. WeatherPort golf cart storage buildings can be designed to match existing infrastructure, to blend in or be designed to stand out with many exterior color options. We offer a wide selection of doors including personnel doors as well as equipment doors to accommodate the entry and exit of any size golf cart or maintenance and grounds keeping equipment.
If you would like more information, would like to work with a WeatherPort building specialist to design a special event structure, or inquire about a golf cart storage building or grounds keeping maintenance facility, we encourage you to request a consultation by clicking the button below, or by calling us at (970) 399-5909!
Design a Special Event Structure or Golf Cart Storage Building
WeatherPort designs and engineers each of our building systems to meet local building codes, and more specifically – to withstand the wind and snow loads of your golf course or golf resort's location. Golf course managers, golf course superintendents, and recreation directors will gain peace of mind knowing their guests will be kept safe should the weather turn for the worse in the middle of celebrating a special event on their premises.
We manufacture all of our fabric buildings in the USA, using the highest quality materials, with strict quality control procedures to create structures that will outlast and outperform all other traditional event tents. Our event structures, golf cart storage buildings, grounds keeper and maintenance facilities do not require support columns, resulting in a open span interior that allows for the maximum use of space. All WeatherPort fabric buildings have minimal foundation requirements, reducing construction costs and time.
The following WeatherPort models are our most popular fabric buildings used by golf courses and golf resorts around the world: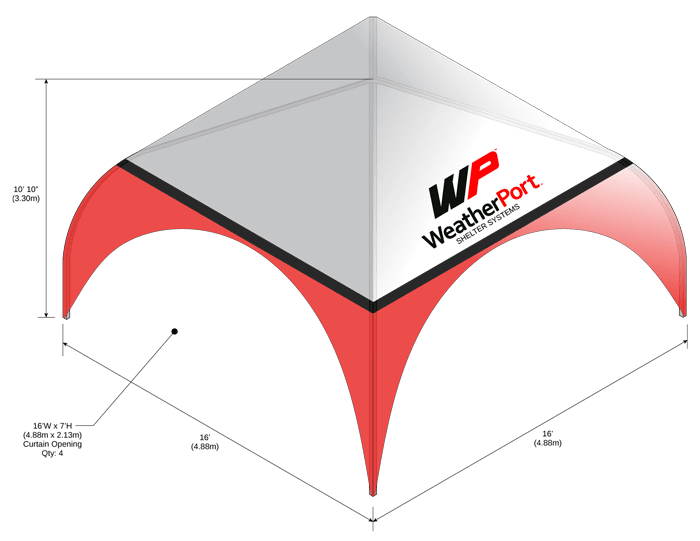 The perfect solution for outdoor events, weddings, covered seating areas, and golf tournaments. Available with or without side curtains and in many colors and sizes, including our popular 10′ x 10′ option. Add logos or graphics!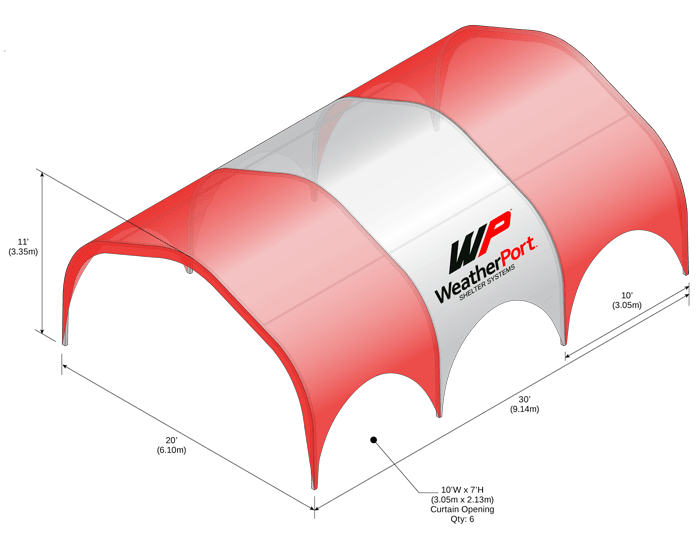 Our Jubilee Series provides a robust outdoor solution, available in many sizes, and colors. With or without side curtains. Perfect for outdoor events or golf cart storage!
If you would like more information, or to inquire about a large fabric building for use as a golf dome, golf field house, or indoor driving range, we encourage you to contact us by requesting a consultation or calling us at (970) 399-5909!
Contact Us for Special Event Structure and Golf Cart Storage Building Pricing
Rely on our five-decades worth of experience by requesting a consultation or calling us today! WeatherPort provides the highest quality fabric buildings and event structures to golf resorts and golf courses around the world! A friendly WeatherPort building specialist will work with you to design and engineer the ultimate event structure or golf cart storage building to meet your exact building requirements!