Advantages of Fabric Structures for Start Gate Applications
Start gates are used for many types of racing or competitions, including downhill skiing, half-pipe or superpipe skiing, ski slopestyle, freestyle skiing, and cross-country ski racing …to name a few! But start gates aren't just used by the ski industry, they are also used by the BMX racing, motocross racing, and horse racing. Regardless of the application, start gates need to be designed to ensure each start is consistent and fair, as well as provide shelter, protecting competitors from the elements. WeatherPort® is the leading provider of custom designed start gates.
Our tensioned fabric start gates are incredibly durable and long-lasting. A WeatherPort start gate lasts longer and requires far less maintenance or repair than a traditional pop-up canopy used as a start gate. We use high-strength polyvinyl chloride based (PVC) fabric membranes in tandem with lightweight aluminum or steel frames to manufacture the strongest fabric start gate structures available. Our start gates have been used by the Olympic Winter Games, X Games, and by hundreds of ski resorts and ski lodges, around the world, and in extreme conditions. The proven resilience of our engineered start gates allows them to withstand high winds and heavy snow loads, protecting competitors.
Although it can certainly handle harsh weather and be left up year-round, for seasonal use – there's no need to leave your WeatherPort start gate out in the elements when the race season is over. Our start gates are highly portable, designed for easy and quick take down for secure storage in the off-season. When a fresh season is about to start, simply unpack and set up your start gate in a fraction of the time traditional buildings require.
WeatherPort start gates can be designed to meet the demand for any size race or competition, and meet any challenge functionally or environmentally. Our structures are extremely customizable, and can be crafted to fully integrate with your racing event or competition.
To learn more about using a WeatherPort fabric building for your starting gate needs, please call us at 970-399-5909, or click the button below to request a consultation!
Our Most Popular WeatherPort Start Gate Buildings
With 50-plus years of proven design and engineering under our belts, we have created a plethora of fabric structures for just about every application out there. Many of our building models can be configured or customized to make the perfect start gate for your next race or competition. Whether you require an open-air canopy with logos and branding, a multi-bay start cover for several competitors at a time, or a fully enclosed and heated gable-style start gate building, a WeatherPort building specialists will work with you to design the perfect starting gate to meet your needs.
Below is a list of our most popular fabric buildings used to design a start gate.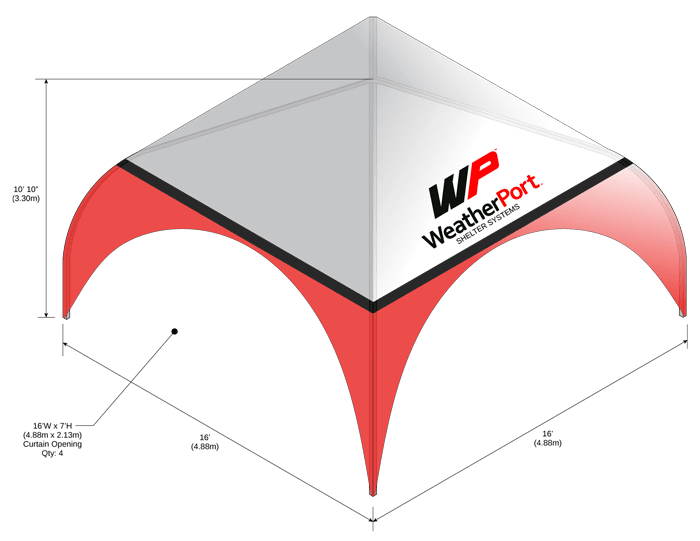 Canopies are a popular structure to use for start gates. They are lightweight, quick to assemble, and can be made with custom graphics. Unfortunately, most canopies aren't engineered to withstand strong winds or heavy snow loads, leaving competitors at the beginning of their race, exposed to the full wrath of mother nature. The Canopy Series from WeatherPort combines lightweight portability, easy and fast setup and take down capability, the ability to brand or print event logos, and are engineered for strong winds and heavy snow loads. WeatherPort canopy start gates come in the following sizes:
10' x 15' Canopy Start Gate
10' x 20' Canopy Start Gate
12' x 12' Canopy Start Gate
16' x 16' Canopy Start Gate
20' x 20' Canopy Start Gate
The WeatherPort Canopy Series has a standard 7' tall arched-opening on each side. Additional height or clearance can be easily added with the use of extensions. Side curtains help protect competitors from chilly winds, and come in a wide selection of styles with windows and doors. Choose from galvanized steel or lightweight aircraft-grade aluminum framing. We offer anchoring systems that allow you to set up your canopy start gate on almost any surface. Learn more about the WeatherPort Canopy Series by clicking the button below.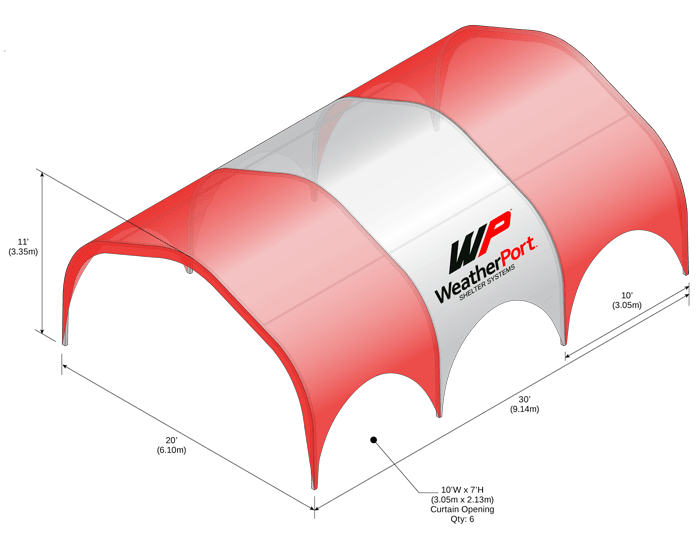 For racing events and competitions requiring larger starting gates, the Jubilee Series is the perfect structure. The WeatherPort Jubilee Series buildings come in a good selection of widths and can be customized with as many 10' side bays as needed for your racing event or competition. Our popular Jubilee Series sizes are as follows:
15' wide Jubilee Start Gate
16' wide Jubilee Start Gate
20' wide Jubilee Start Gate
26' wide Jubilee Start Gate
30' wide Jubilee Start Gate
Work with a WeatherPort building specialist to design a completely custom start gate using our Jubilee Series structures. Choose from a variety of sizes, lengths, colors, branding and printing options, side curtains with windows and doors. Or click the button below to learn more about the WeatherPort Jubilee Series.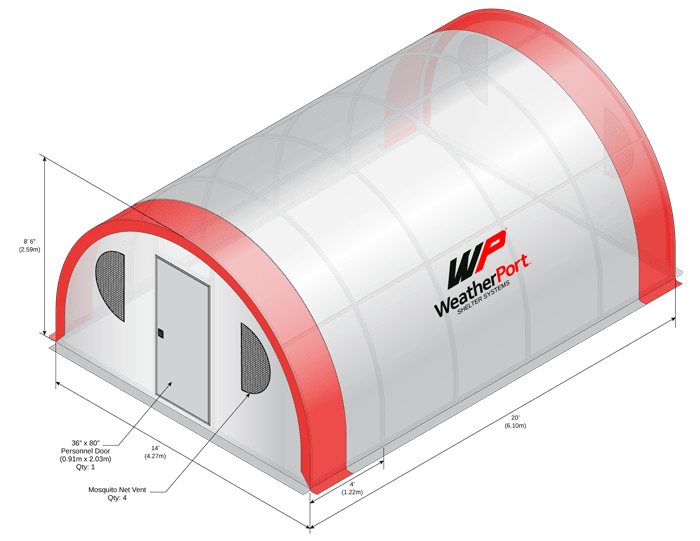 The round design of our SQ Series is a modern take on the Quonset-hut style buildings. The SQ Series from WeatherPort lends itself very well to the requirements for starting gates, be it at the top of a mountain trail for BMX downhill racing and mountain bike races during the hot summer months, or at the start of the runs for snowmobile freestyle competitions in the wintry months. Our SQ Series start gates are highly portable, can be setup in as little as 15 minutes, and can be customized to meet the needs of your racing event or competition. Choose from a wide range of sizes and configurations, as well as a wide selection of colors and custom branding options. Learn more about the WeatherPort SQ Series fabric structures by clicking the button below.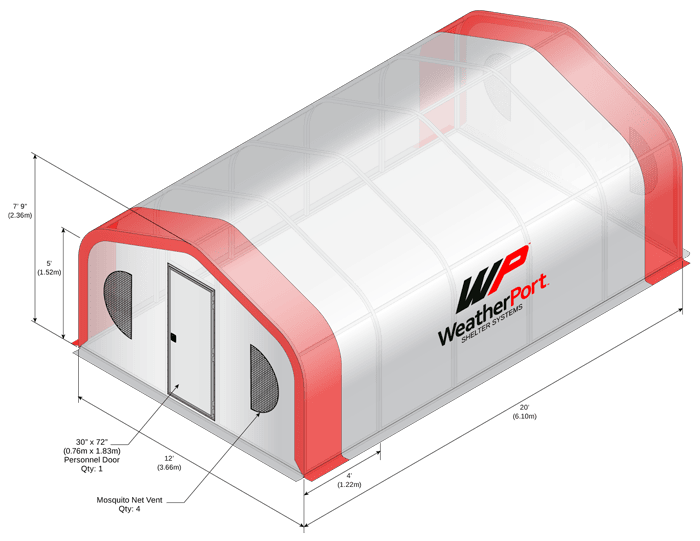 The straight-wall, gable-style design of the WeatherPort GB Series buildings creates an incredibly strong, long-lasting, and highly customizable fabric building system that is perfect for start gates from 8' wide to 20' wide, to any height, and to any length. Choose from a wide selection of pre-designed start gate structures or work with a friendly WeatherPort building specialist to design a starting gate that meets your exact requirements. To learn more about the GB Series from WeatherPort, click the button below.
Enjoy More Options with a WeatherPort Start Gate
A significant advantage of working with WeatherPort for your starting gate system is our near-limitless selection of customization options, backed by more than 50 years of industry-leading building expertise. We can engineer and design a custom start gate to virtually any size and configuration, while implementing special fabric colors, patterns, as well as include custom printed graphics and branding so that your starting gate gets attention and helps promote your organization, race, or competition.
If desired, we can also fit your custom WeatherPort start gate with curtains, windows, and doors to enclose all or part of your start gate structure, providing competitors greater protection from the elements. Additional features, such as insulation and standalone electrical or HVAC systems, are also available to make your starting gate a more effective, valuable building cold or hot weather activities.
To learn more about the options to customize your WeatherPort starting gate, click the button below to schedule a consultation with one of our building specialists, or call us at 970-399-5909!
Request a Consultation
Contact Us Today to Design a Starting Gate
When you work with WeatherPort to design your next ultimate starting gate, you can enjoy the in-depth expertise that comes from 50-plus years of proven engineering, design, manufacturing, and delivery of the most rugged portable building systems available. The strength, longevity and quality of our building systems has been proven by thousands of customers worldwide, in the most demanding of environments. Call us today or complete the form below if you would like to more information or to begin the process of designing your next starting gate structure.