UPGRADE TO AN INSULATED HUNTING SHELTER
As Summer draws to an end, and the brisk temperatures of Fall set in, the changing and falling of leaves gets you excited about hunting season! While most people are starting to wind down their outdoor activities, and seeking refuge in the warm confines of their home, you are braving the cold temperatures, relishing the fact you can see your breath as you tear apart your garage to compile and organize all your hunting gear. It is in the process of pulling out last year's hunting blind that you remember it was your responsibility to find a portable hunting shelter capable of housing four to six people and all their hunting gear, can be equipped with a portable gas heater, and is designed to hold up to the heavy winds and snow of the high country.
Not wanting a repeat of last year's two week-long hunting trip cut short because of heavy snows and cold temperatures, you decide to invest in a heavy-duty hunting shelter, and not another camouflaged camping tent marketed as a "hunting blind". To avoid postponing this year's planned hunting trip, you remembered talking to a WeatherPort specialist and seeing one of their insulated hunting shelters setup at a local sportmen's expo, and decide to give them a call to discuss your hunting shelter needs.
You know you made a good investment by purchasing a WeatherPort insulated hunting shelter after returning from a long and cold day of hunting, catching up with friends you haven't seen in a long time, reminiscing of past hunting excursions, and enjoying the warmth and comfort from the portable gas heater, protected from the wind and snow.
WeatherPort is the world's leading provider of insulated hunting shelters. Custom design a hunting shelter by choosing from hundreds of building styles, sizes, and options including camouflage designs, windows with hook-and-loop covers, clear-plastic, and screens, built-in gun ports, brush loops, flooring systems, insulation packages, plug-and-play lighting and electrical systems, as well stove and heating systems.
Unlike canvas tents, wall tents, typical hunting blinds, or camping tents – WeatherPort hunting shelters create a weatherproof enclosure. Our hunting shelters are engineered to meet building codes for safety and standing up to the wind and snow loads of your location. Our hunting shelters employ a long-lasting fabric membrane tensioned over a high-strength metal frame system, available in lightweight aluminum or galvanized steel. Optional powder coating is available in numerous colors to add an additional layer of corrosion protection and looks great!
While our hunting shelters are not a "backpacker's tent", we have engineered our hunting shelters be packed down into single or two-person carry bags, perfect for mounting to the front and back of your ATV.
Speak with a friendly WeatherPort building specialist about your upcoming hunting shelter needs by calling 970-399-5909. Or click the button below to request a free consultation.
OUR MOST POPULAR HUNTING SHELTER SIZES AND MODELS
Enjoy the solitude, peace, and quiet of the wilderness or indulge and take pleasure in winning a wicked game of cribbage after a long day's hunt with friends and family inside your WeatherPort hunting shelter! From 1-person hunting shelters, to hunting shelters designed for 4 to 6 people, as well as large or multiple structure configurations for hunting camps or outfitting camps, WeatherPort can custom design a weatherproof, long-lasting, American-made hunting shelter that is fast to setup, portable, and will keep you and others warm on those cold chilly nights. Below are our most popular hunting shelter models and sizes!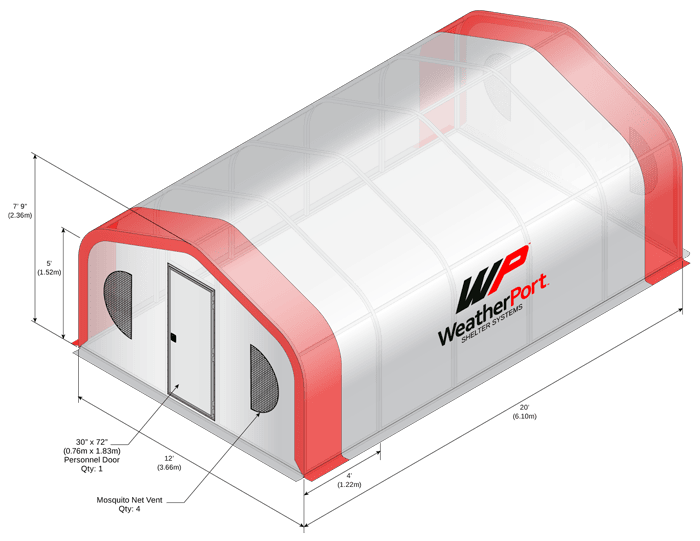 The gable building design of our GB Series takes hunting shelters to a new level. The straight-wall design of our GB Series hunting shelters is a big improvement over canvas or wall tents, which require support poles. The GB Series is a free-span design that does not require support poles, maximizing use of the interior space. Gone are the days of crouching down while taking your shot thru one of the built-in gun ports. The straight-wall design and custom placement built-in gun ports of the GB Series allows hunters to stand while taking aim. Available in widths from 8' to 20' and to any length, the GB Series hunting shelter can be designed to accommodate a single hunter, or a large group of hunters. Learn more about the GB Series from WeatherPort by clicking the bottom below.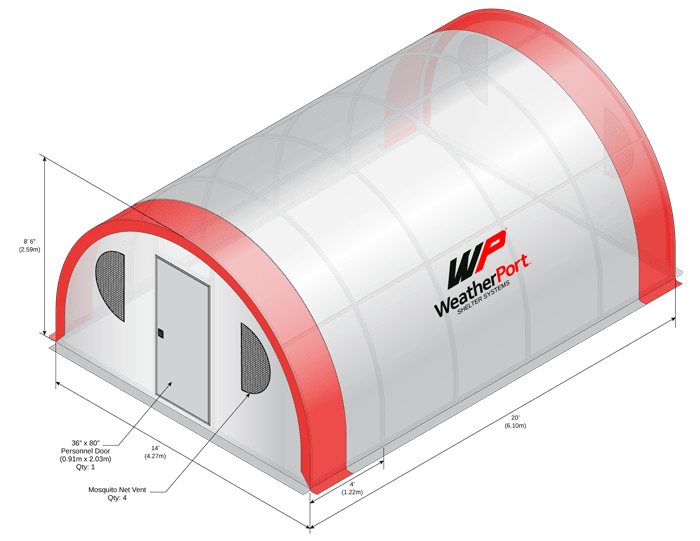 The SQ Series hunting shelter is available in widths from 15' to 30'. Depending on the loads required for your area, lengths are available in 2.5', 5' and 10' increments. Custom lengths are available upon request. The SQ Series is a modern take on the Quonset hut style, designed for portability, customization, and maximum comfort. The design of the SQ Series is great for creating large hunting shelters or hunting cabins that are setup each season or left up year-round. Interior partitions can be added to create private rooms. Learn more about the SQ Series from WeatherPort by clicking the button below.
THE LONGEST LASTING HUNTING SHELTERS AVAILABLE
It takes a bit of boldness followed by a shot of 'we know what we are doing' to be able to say our hunting shelters are the longest lasting. Compared to the flimsy camouflaged camping tents sold in most retail or box stores, or by companies that make cheap fabric structures overseas, our engineers have spent 50-plus years perfecting the engineering of our fabrics, frame systems, countless hours tweaking designs, and upgrading and utilizing the latest manufacturing techniques, and a lot of pride and dedication to keep our hunting shelters manufactured in the USA, all in an exhaustive effort to develop the ultimate tensioned fabric structures available.
It is not uncommon for our customers to share their stories and pictures of their hunting shelter or hunting cabin being used 10, 20, or even 30 years after purchasing their WeatherPort! How many other hunting shelter companies do you know that can say the same thing?
CONTACT US TODAY TO DESIGN A HUNTING SHELTER!
While we do have standard hunting shelter models, our experience has taught us hunters have very specific requirements when it comes to designing a hunting shelter to fit their hunting needs. A friendly WeatherPort building specialist will guide you thru the process of selecting the best model, determining the size, and then customizing and designing a hunting shelter that will meet your exact needs, as well as meet the building codes for your area. The safety, long-lasting durability, and enjoyment you'll receive by investing in a WeatherPort hunting shelter is unrivaled.
Call us today or complete the inquiry form to discuss your hunting shelter or hunting cabin needs!