COMMUNITY POOL ENCLOSURES PROVIDE YEAR-ROUND SAFETY FOR SWIMMERS
A group-use pool can be a valuable asset to many city-sanctioned community centers, neighborhoods, health clubs, resorts, and more. However, pool users' safety is a top priority, and swimming outdoors in hazardous or undesirable conditions can be a potential liability. If you own or are responsible for maintaining, operating, or overseeing a community pool space, the satisfaction of your guests is also an important part of your continued success.
With an engineered fabric structure from WeatherPort surrounding your outdoor community pool, you can ensure swimmers remain safe and comfortable throughout any season. One of our durable, fabric-based pool enclosures has the power to transform an outdoor community pool into a weatherproof indoor pool for year-round use and revenue.
WeatherPort pool enclosures offer additional shade for a refreshing break from high external temperatures and harmful UV rays, while winter weather protection will entice swimmers seeking a relaxing dip in a heated pool. Your WeatherPort pool enclosure's many features combine to make your community pool a versatile space that can be utilized in any season. If your guests prefer the option of lounging in the summer sun, our friendly building specialists will work with you to add custom elements such as windows, doors, screens, and vents for your desired level of coverage and open passage through exits and entryways.
Have questions? Special pool enclosure requirements for a community pool? Read on for more information, click the button below to request a consultation, or contact us at (970) 399-5909!
HOW A FABRIC BUILDING CAN BENEFIT YOUR COMMUNITY POOL
No matter the size of the community pool or the specific intended use, our extensive lineup of engineered fabric structures and unmatched opportunities for customization can deliver desired benefits.
Every WeatherPort is constructed utilizing our long-lasting architectural membranes tensioned over a heavy-duty frame system, all custom built to your pool enclosure specifications, and engineered to withstand a variety of conditions, including: extreme sun exposure, snow loads, heavy precipitation, and wind! A friendly WeatherPort building specialists will assist you with selecting the proper model to design a community pool enclosure.
Optional windows, doors, lighting, electrical, or HVAC systems, proprietary and energy efficient insulation systems, skylights, hard- and soft-wall partitions, and much more make our fabric structures the most adaptable to fulfilling the specific requirements required for community pool building projects.
Request a consultation below to tell us about the pool enclosure you need for your community pool.
WEATHERPORT POOL ENCLOSURES ACCOMMODATE A LARGE VARIETY OF NEEDS
Whether you're searching for a pool enclosure that can fit over a community pool, a lap pool, a compact pool designed for small groups, or an Olympic-size swimming pool, you'll find a variety of uses for an engineered WeatherPort fabric structure, including:
Public pools
Aquatic centers
Neighborhood pools
Gym and health club pools
School and university pools
Resorts and country clubs with pools
Enclosures for in-ground, above-ground, or portable pools
Enclosures for fiberglass, concrete, vinyl pools, and more
Enclosures for saltwater and chlorine pools
Storage facilities for pool pump, pool filters, chemicals, and pool equipment
The following WeatherPort building models are our most popular and can be customized to design the perfect community pool enclosure.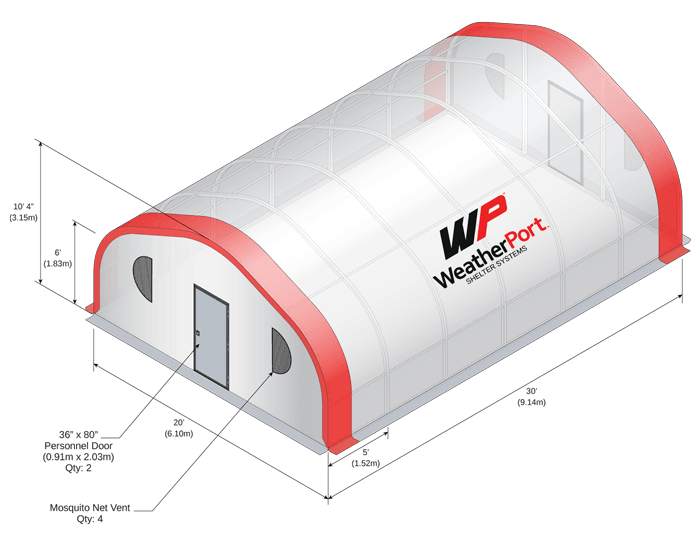 A WeatherPort HGB Series (heavy gable building) is a great choice for any pool enclosure application that requires extreme durability, versatility, and longevity. Available in widths up to 30', and customizable heights and lengths, the HGB Series offers a great return on investment, creating a safe and enjoyable swimming experience year-round or seasonally.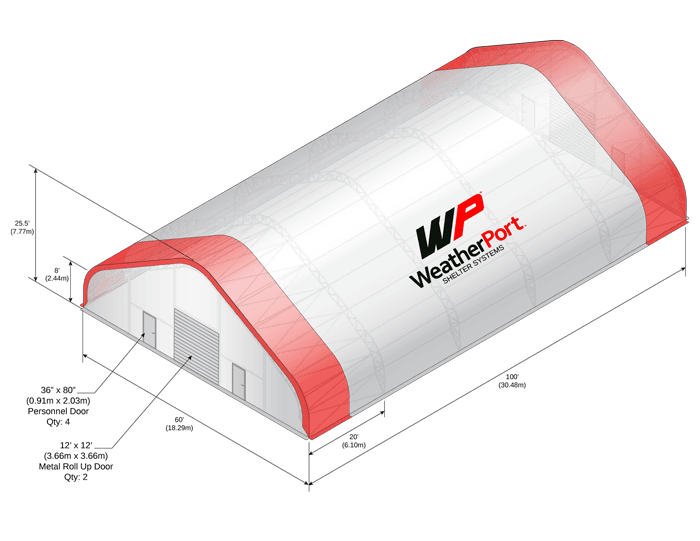 Need a community pool enclosure larger than 30' wide? No problem! Our DAGB Series (double-arch gable building) is available in widths up to 150' wide, and customizable to any height or length. The double truss design of our DAGB Series fabric structures provides superior protection for large scale community centers and community pools, securely anchors to concrete foundations and most ground types, can be easily expanded, and installed as a permanent building solution. The versatile nature of the DAGB Series makes it the perfect building solution for any large community pool!
CONTACT US TODAY TO DESIGN YOUR OUTDOOR COMMUNITY POOL!
With a WeatherPort pool enclosure, community pool schedules can operate independently of seasonal transitions and threatening or adverse weather conditions. Our rugged fabric structures are designed and manufactured with the highest quality materials, providing many long-lasting benefits over typical brick-and-mortar construction, as well as metal and steel buildings.
Rely on our 50-plus years of proven excellence engineering the safest and longest lasting fabric structures available. Contact us today to design your outdoor community pool enclosure!
Related WeatherPort Products