Create Workshops and Maintenance Facilities with WeatherPort Fabric Buildings
Are you the school district's Facilities Director in need of a bus barn and maintenance facility capable of keeping over 50 school buses on the road? Or a Civil War cannon restoration specialist in need of additional workshop space? Or a small business owner needing additional work space? WeatherPort is the leading provider of engineered fabric buildings for workshops and maintenance facilities. Our fabric buildings employ a ruggedly durable and long-lasting tensioned membrane over a high strength frame system, and can be customized to nearly any size and configured with an assortment of equipment doors, HVAC systems, insulation, windows, and doors.
Workshops and Maintenance Facilities Designed for Durability
WeatherPort workshops and maintenance facilities are built to last. Our engineers have spent more than 50 years perfecting the design of our fabric building systems to create the most portable and longest-lasting tensioned buildings on the market. Our architectural membranes utilize a PVC based fabric that can withstand extreme weather conditions, including high amounts of UV exposure. Our proprietary fabric membranes are resistant to mold and mildew, will not rot, and exceed the California Code of Regulations (CCR) for membrane structures to provide an unmatched level of safety.
Our frame systems, depending on the engineering and project requirements, are made of galvanized steel or high-grade lightweight aluminum. By design, our frame systems are easy to assemble and when combined with our tensioned fabric membrane, provide a robust and weatherproof building system to carry our maintenance and repair work, even in the most extreme weather conditions.
It is not uncommon for us to hear from past customers that have enjoyed their WeatherPort workshops and maintenance facilities for 20+ or 30+ years. We utilize the latest manufacturing techniques and the highest quality materials to ensure our customers are getting the best value. While other companies cut corners by having their frame systems and fabric cheaply made overseas, we have remained true to our belief of manufacturing the highest quality building systems in the USA by hard working Americans.
Contact us today at 970-399-5909 to discuss your workshop and maintenance facility needs or request a consultation by clicking the button below.
Custom Design a Workshop or Maintenance Facility
Just as you would custom design a conventional building made of wood, brick and mortar, concrete, or a steel building to create the ideal workshop space, WeatherPort building systems offer a high degree of customization. Nearly every facet of a WeatherPort building system can be designed to meet your workshop or maintenance facility requirement. So, whether you need a maintenance facility to maintain a fleet of 90-ton cranes, a municipal maintenance center to keep your city's vehicles on the road, or for a personal workshop in your backyard, a friendly WeatherPort building specialist will walk you thru the process of designing the ultimate workshop or maintenance facility.
All WeatherPort fabric buildings are engineered to meet local or international building codes for durability and safety. The open span design of our fabric building systems can be expanded to 150' wide, to any height, or length. We offer a wide selection of building styles to choose from. Equip your workshop or maintenance building with roll-up metal doors, personnel doors, windows, as well as lighting, electrical and HVAC systems.
Drastically reduce energy costs with our proprietary insulation packages, capable of meeting any R-Value. Want to reduce your energy bill by using natural light? Design a maintenance facility with skylights to reduce the need for artificial light, creating a bright interior during the day to carry our repair or maintenance work.
Take the first step in building your new workspace by requesting a consultation below, or give us a call at 970-399-5909 to learn more information about our workshops and maintenance facilities!
Popular Models for Workshops and Maintenance Facilities
Whether you need a small workspace for yourself or assist a large team of maintenance professionals, your workspace is where you solve problems. It's where you take the broken pieces and put them back together, or use your creative abilities to build something completely new. We want to design a building system that provides you the ideal space to carry out all your repair or creative work.
WeatherPort has been providing engineered fabric structures for workshops and maintenance facilities for more than 50 years. During that time, we have developed many different building systems, each offering a unique approach to creating the ideal workshop space. Below are our most popular building systems used for workshops and maintenance facilities.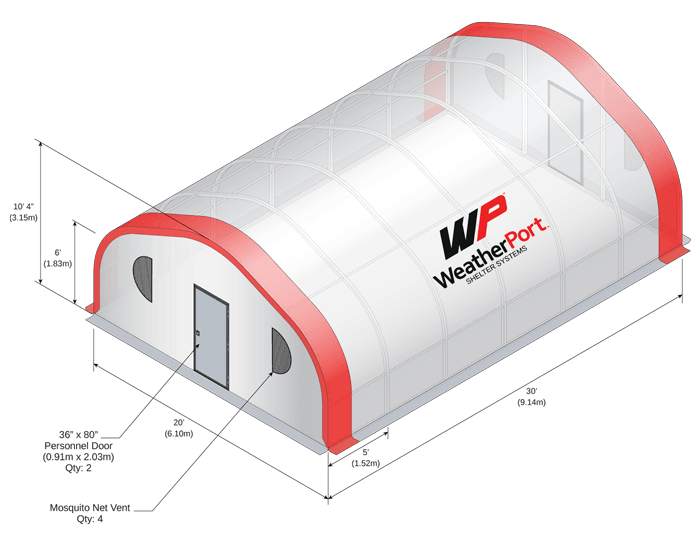 Engineered for safe use in any climate, our heavy gable building (HGB) series offers an unmatched level of versatility and portability. The HGB Series is well suited for portable maintenance facilities for commercial, agricultural, or personal workshops. The HGB Series building system is available in sizes up to 30′ wide and can be customized to any height or length. The HGB series is a great choice for small- to medium-sized workspaces. To learn more about the HGB Series building, click the button below.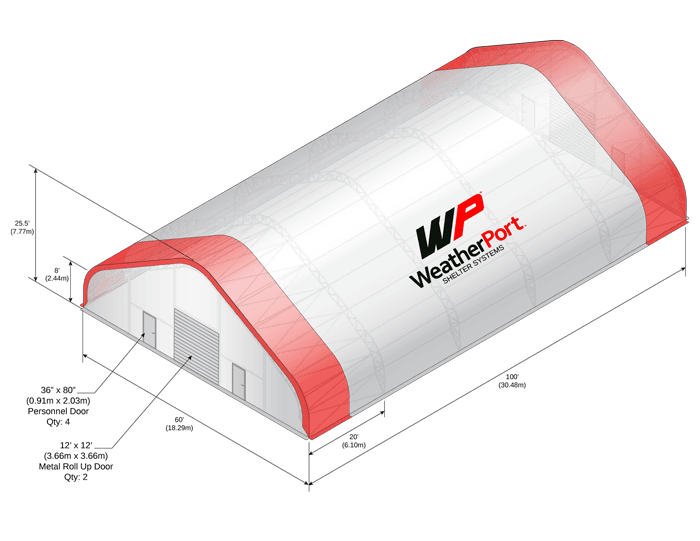 The DAGB Series showcases WeatherPort's ability to create large workshops and large maintenance facilities designed for rapid setup. Available up to 150' wide, to any height, and to any length, the DAGB Series is a great choice for business owners or organizations needing a large workspace. The DAGB Series buildings are engineered for safety, durability, and with a minimal foundation requirement, can be installed on virtually any level surface. The DAGB Series buildings can be transported to different job sites or can be setup and left as a permanent building installation. To learn more about the DAGB Series from WeatherPort, click the button below.
Let's Work Together to Design a Workshop or Maintenance Facility
Rely on our 50 years of proven excellence, designing and engineering high quality fabric buildings for thousands of customers around the world. Our workshops and maintenance facilities provide a great return on investment. The customizability of our fabric building systems allows us to engineer and design a workshop that will meet your exact building or project requirements. Contact us today to discuss your workshop or maintenance facility needs.