MORE FUN IN THE SUN WITH A POOLSIDE SHELTER
A canopy or cabana is a surefire way to upgrade any poolside experience. Personal and community pool owners alike will find that adding a poolside shelter or a series of shade structures can amplify ambience and convenience, whether for a private backyard pool or a five-star resort or country club pool. With access to an engineered fabric structure, swimmers and onlookers will enjoy many benefits, such as relief from direct sunlight, protection from sunburns caused by prolonged UV ray exposure, and a comfortable place to dry off and lounge.
A WeatherPort poolside shelter is a no-hassle, time-saving alternative to hiring a contractor to construct a structure from the ground up. Our structures employ a proprietary architectural membrane, which is engineered for superior durability and long-term performance. Our poolside shelters can be customized with a near endless amount of possibilities, including different models, sizes, cover and frame systems, plug-and-play lighting and electrical systems, as well as many other options, allowing each customer to create their ideal poolside shelter solution. Community pool managers and resort operators can house multiple lounge chairs and other amenities to create private pool cabanas or cater to a high volume of guests.
The flexible design of our engineered fabric structures allows us to design poolside shelters that can be open for guests to enjoy the expansive views or create a private pool cabana. Privacy levels can be controlled by adding roll-down panels with optional clear windows or screens in a large assortment of designs.
We make the process of designing a custom poolside shelter easy! Call us today at (970) 399-5909 or use the button below to request a consultation. A friendly WeatherPort building specialist will work with you to custom design a poolside shelter that will meet your exact needs!
WHAT MAKES A WEATHERPORT POOLSIDE SHELTER SO GREAT?
Streamlined engineering, superior adaptability, and product longevity are just a few advantages that make every WeatherPort fabric structure the premium choice for poolside shelters. We specifically design and engineer each of our fabric structures to meet your local building codes durability and safety. Gain peace of mind knowing your family or guests will be safe should the weather change suddenly.
WeatherPort poolside shelters offer an incredible value. All of our engineered fabric structures are designed for rapid set up and takedown. Whether you plan to install and leave your poolside shelter in place for year-round enjoyment, or setup and take down seasonally, you'll find our structures offer an unmatched degree of portability and durability!
When it comes to anchoring your poolside shelter, all WeatherPort structures can be securely anchored to most surfaces including: sand, dirt, wood, concrete, and asphalt. We offer an assortment of additional anchoring solutions. So, unlike the flimsy pop-up canopies, with a WeatherPort, you will not need to worry about a dangerous flyaway canopy or shelter during storms and sudden high wind events.
Through summer heatwaves, a dip in the pool can provide much-needed refreshment and relief from the heat! Our architectural membranes are specifically made for prolonged exposure to UV rays. Using a proprietary blend of materials, we go the extra mile and impregnate the fabric with a UV stabilizer. This process is more costly, but ensures our tensioned membranes will outlast other UV "coated" fabrics.
Ample customization opportunities await! A friendly WeatherPort building specialist will walk you thru the design process, providing professional guidance to bring your poolside shelter vision to life. Click the button below to request a consultation, or call us at 970-399-5909 to get started today!
POPULAR POOLSIDE SHELTER SIZES AND APPLICATIONS
When selecting or designing your perfect poolside shelter, consider the following. What maximum occupancy do you need to accommodate? What gear or furnishings must you be able to fit under your shelter? Unlike box retailers, or pop-up canopy tents that come in standard sizes, WeatherPort offers custom pool shelter sizes. Our poolside structures are designed specifically to your required size.
WeatherPort poolside shelters have been used for the following applications:
Resort cabanas
Shade structures and pool cabanas for country clubs
Backyard pools
Backyard entertaining
Public pools
Community pools
Poolside entertainment
Poolside bars and snack areas
Lounge areas
Below are our most popular building models for poolside shelters.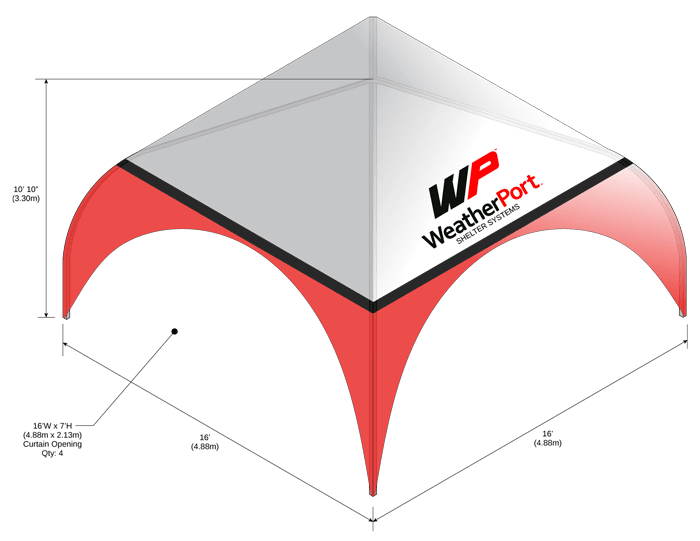 A WeatherPort Canopy is a heavy-duty and long-lasting pop-up canopy alternative. Investing in a Canopy Series will provide years of enjoyment and relief from the hot sun! We offer a wide assortment of fabric colors, patterns, as well as printing for either logos or designs to compliment the color scheme of your backyard pool, blend in, or stand out. Choose from a large selection of side curtains with optional clear windows and screens. The Canopy Series is offered in the following models and sizes.
4-Sided Canopy Sizes Include:
10' x 15' Canopy
10' x 20' Canopy
12' x 12' Canopy
16' x 16' Canopy
20' x 20' Canopy
Click the button below to learn more about the Canopy Series!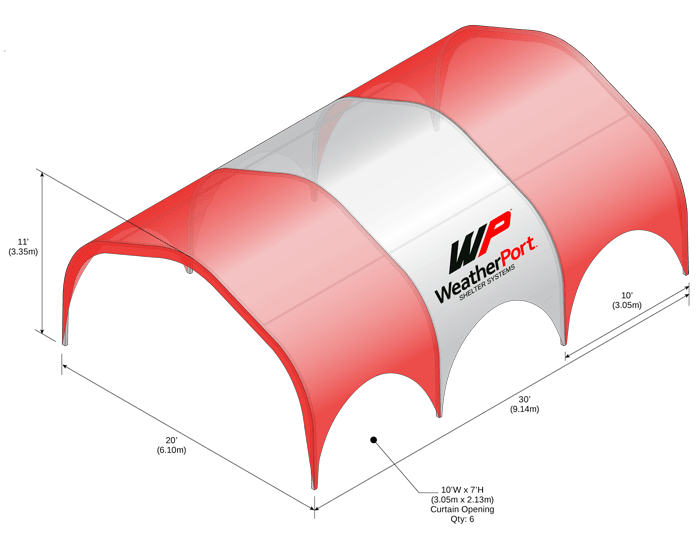 The Jubilee Series from WeatherPort is a great solution for covering a pool or creating a large covered area next to a pool. Available in 15', 16', 20', 26', and 30' widths, and customizable to any length, in increments of 10', the Jubilee Series can be configured for large receptions, outdoor and poolside events, weddings, poolside parties, restaurant or bar space, as well as a shaded area for guest lounging.
Like the Canopy Series, the Jubilee Series can be designed with a large assortment of roll-up side curtains to create an open feel, or closed for privacy.
The rugged design of the Jubilee Series make it an ideal structure for areas that experience strong winds and heavy snow loads. The high-strength metal frame system is available in either aircraft grade aluminum or galvanized steel, depending on your portability requirements. We offer in-house powder coating on all our frames to provide an additional layer of protection against corrosion.
CONTACT US TODAY TO DESIGN A POOLSIDE SHELTER
From building selection, customization and design, engineering, manufacturing, to shipping and delivery, a friendly WeatherPort building specialist is available to assist you each step of the way to creating your dream poolside shelter! Rely on our 50-plus years of proven excellence, creating engineered fabric structures capable of meeting any challenge – both functional and environmentally. Ready to upgrade your poolside experience and invest in a long-lasting poolside shelter from WeatherPort? Contact us today to get started!
Related Weatherport Products