FABRIC STRUCTURES FOR AQUATIC CENTERS
Large swimming clubs tired of leasing pool time from multiple aquatic centers and city planners looking to fulfill long-term recreational plans for their communities will find the rapid construction schedule of a WeatherPort aquatic center the perfect indoor pool building solution for drastically reducing construction costs, avoid scheduling conflicts, and ensure a safe place to practice, swim, and enjoy aquatic activities!
Aquatic centers from WeatherPort are custom designed to meet your specific indoor pool building requirement and engineered to meet local building codes for safety. Whether you are wanting a pool enclosure for a four-lane 20-yard teaching pool, or are planning to have two Olympic-sized competition pools complete with warm-up and rest pools to host swimming championships, a friendly WeatherPort building specialist will assist you through all stages of initial planning, design, engineering, production, and delivery. And unlike other fabric building systems that require expensive crews and supervisors for construction, we design all our engineered fabric structures for ease of setup to be performed by a general contractor and unskilled labor. Should you desire, a WeatherPort setup team or supervisor is available upon request to offer setup assistance.
In addition to drastically reducing the construction time and cost of an aquatic center, WeatherPort fabric structures offer a myriad of cost-saving benefits. Aquatic centers from WeatherPort can be installed on virtually any level surface, reducing the amount and costs associated with extensive site preparations. Once setup, a WeatherPort aquatic center is virtually maintenance free. Our high-strength frame systems are made of aircraft grade aluminum or galvanized steel (depending on the model and engineering required) to provide a fiercely reliable building system that resists corrosion. For customers seeking an additional level of corrosion protection, we offer in-house powder-coating in a large selection of colors. The tensioned membranes of our fabric structures are engineered for longevity (with proper care), will not rot, are mold and mildew resistant, exceed the California Code of Regulations (CCR) for membrane structures for fire safety, and can withstand prolonged exposure to high amounts of UV radiation.
All WeatherPort aquatic centers can be designed with a large selection of windows, doors, hard-wall or soft-wall partition systems, ventilation, HVAC, lighting and electrical systems for greater convenience and comfort. Reduce energy usage during daytime hours by incorporating a large skylight in the design of your aquatic center! Our semi-translucent skylight material blocks out harmful UV rays while diffusing sunlight to produce a bright and safe interior. Proprietary insulation systems integrate seamlessly to increase energy efficiency and are capable of meeting any R-Value.
When you choose to invest in a Weatherport, you're choosing a building solution that has been proven by tens of thousands of customers around the world. Since opening our doors in 1968, WeatherPort has remained true to our belief of using the highest quality materials, to produce the longest lasting fabric structures, engineered to meet our customer's indoor pool building requirements, while proudly being made by hardworking Americans in the USA, on time, and under budget to more than 85 countries around the world.
To request a free consultation or to discuss your aquatic center needs, call us at (970) 399-5909 or click the button below!
DESIGN THE ULTIMATE AQUATIC CENTER
Our friendly building specialists have years of experience working with city planning departments, project managers, engineers, architects, construction companies, facility managers, athletic directors, and coaches. Upon requesting a consultation, a WeatherPort building specialists will work with you or your team to determine the exact needs of your indoor pool building project and assist you to design the ultimate aquatic center.
Below are our most popular building options for designing an aquatic center using a WeatherPort fabric structure!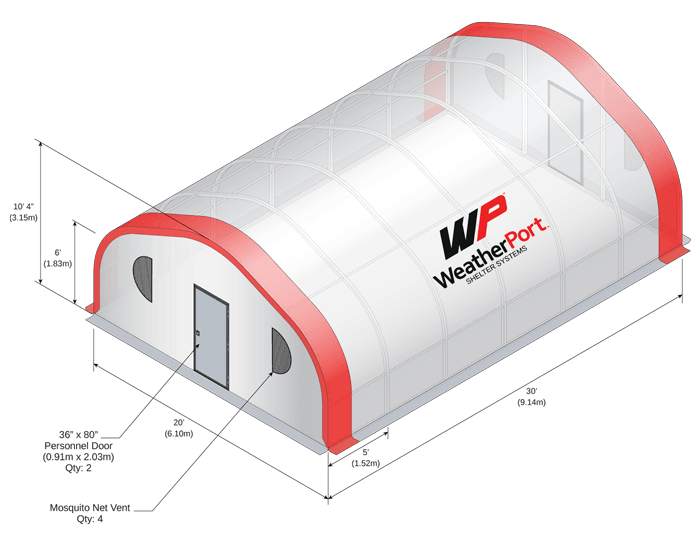 The HGB Series is our heavy-duty gable line of fabric structures that offers unmatched durability. The single arch system is engineered to endure the worst weather conditions imaginable, while at the same time offering a lightweight building solution that can quickly and easily can be assembled in a fraction of the time when compared to steel buildings, stick built or wood construction, and other modular building systems. Available in widths up to 30', with adjustable sidewall heights, and customized to any length, it is the perfect indoor pool building for small to medium-size aquatic center applications. The HGB Series can be equipped with nearly any assortment of windows, doors, insulation, lighting and electrical systems to create a highly versatile pool facility capable of housing many aquatic activities and events. Click the button below to learn more about the HGB Series from WeatherPort!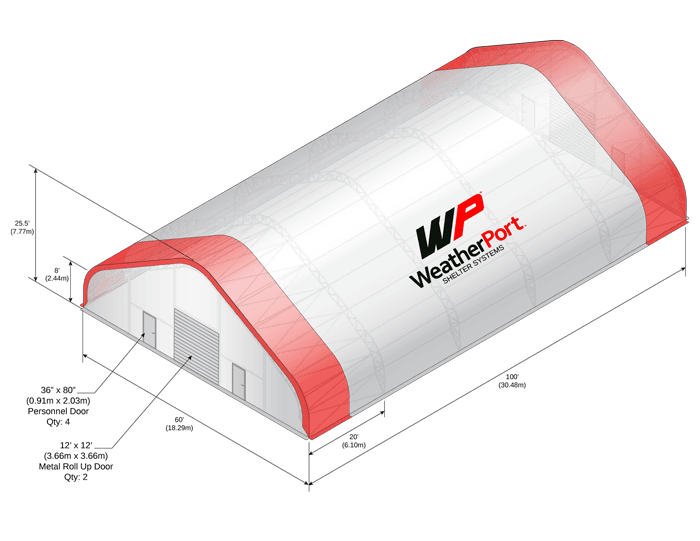 The DAGB Series is the go-to model for large aquatic facilities. Our HGB Series fabric buildings can be designed and engineered from 30' to 150' wide, to any sidewall height, and to any length. Perfect for enclosing an Olympic-sized swimming pool for competitions. Configure your DAGB Series aquatic center with any assortment of options, including: windows, doors, and wall partition systems to create locker rooms, offices, hospitality and meeting rooms, child care areas, or to create a recreational facility complete with indoor basketball or racquetball courts, gymnasiums, or running tracks. The DAGB Series utilizes a open span design and does not require support beams or columns, creating a large and unobstructed interior for large swimming pool and activity areas. To learn more about the DAGB Series, click the button below.
CONTACT US TO DISCUSS YOUR AQUATIC CENTER PROJECT TODAY!
Rely on our 50-plus years of excellence providing engineered building systems for your upcoming aquatic center project! We make the process of designing an aquatic center exciting, providing options and offering advice, while at the same time being sure to address and pay attention to your facility needs. We offer a large selection of fabric colors so your aquatic center can match existing infrastructure, or be a truly one-of-a-kind recreational facility. Add logos, custom graphics, mascots, or branding messages with our in-house printing capability. WeatherPort is one of only a couple companies in the USA with the experience and equipment to print directly onto our tensioned fabric membranes in near magazine quality resolution!
Dive in and make a big splash today by contacting us using the information below!