Growing Operations Can Benefit from WeatherPort Commercial Greenhouses
For agricultural operations, expansive nurseries, and farmers, WeatherPort® commercial greenhouses offer a long list of benefits. Traditional commercial greenhouses take too long to construct and require constant and ongoing maintenance. Plexiglass greenhouses once setup, cannot be easily taken down and moved, are cost-prohibitive for large commercial greenhouse applications, expand and contract – requiring special consideration when used in areas with fluctuating temperatures, and over time will degrade and turn yellow. Plastic greenhouses, or greenhouses with a thin polycarbonate or acrylic film stretched over the frame can be designed for larger applications but will not hold up to strong winds, heavy snows, nor will they last much beyond a single growing season without needing to be replaced. Not only is this a time-consuming process, it is also bad for the environment. In contrast, WeatherPort's engineered fabric structures make the perfect commercial greenhouse solution.
WeatherPort commercial greenhouses can be left in place with minimal foundations, set up in a fraction of the time compared to more traditional greenhouse systems, can be installed and left in place as a permanent commercial greenhouse, or easily taken down and used seasonally. Nearly every feature of a WeatherPort commercial greenhouse can be custom designed and tailored to your specific growing needs. Our commercial greenhouses employ an architectural membrane specifically designed to diffuse sunlight, to avoid the magnifying effect common with glass or see-through greenhouse materials. The high-strength frames of our commercial greenhouse systems are engineered to meet the requirements of your local building codes for safety. The durability of a WeatherPort commercial greenhouse cannot be matched. It is very common for customers to tell us they have been using the same tensioned membrane and frame system for more than 30 years. All the while, enjoying the revenue generating benefits of a large commercial greenhouse without the typical upkeep costs and time required for maintenance. It's a great testament to the durability and reliability of investing in a tensioned fabric structure from WeatherPort!
Since opening our doors in 1968, WeatherPort has led the industry with premium tensioned fabric structures for a near-limitless array of applications, including commercial greenhouses. Our commercial greenhouses systems have been used in more than 85 countries around the world. Call us today at (970) 399-5909 to discuss your commercial greenhouse requirements, or request a consultation using the button below.
WeatherPort Commercial Greenhouse Structures
Whether you require a small commercial greenhouse for a botanical research facility or to support the growing needs of university horticulture programs, or require a large warehouse-sized commercial greenhouse to grow and supply a number of local garden centers, plant nurseries, or are a market grower in the business of growing vegetables or flowers, WeatherPort has a commercial greenhouse for you! Working with a friendly WeatherPort building specialist, you'll be expertly guided thru the design process of customizing a commercial greenhouse that will meet your growing needs.
Below are our two most popular models for designing a commercial greenhouse.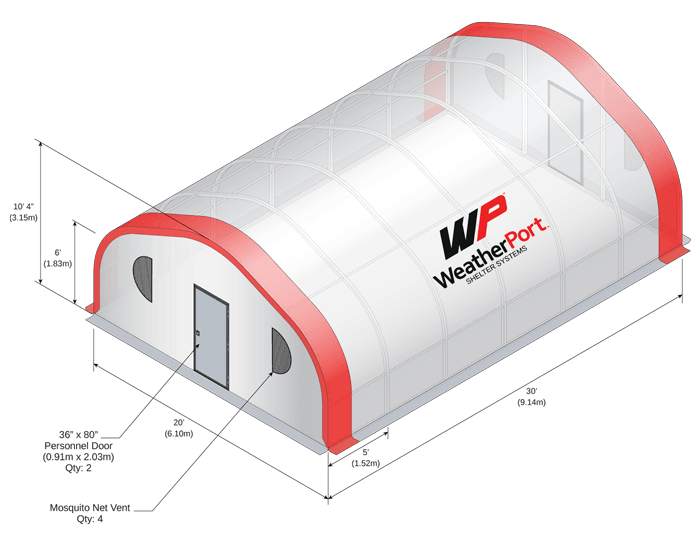 The HGB Series commercial greenhouse is a heavy-duty gable design engineered to provide a ruggedly durable greenhouse solution for areas with strong winds and heavy snow loads. The HGB Series can be custom designed up to 30' wide and to any length. The standard sidewall height on the HGB Series is 5'. Accommodations for taller plants can be made working with a WeatherPort building specialist to raise the building height. The HGB Series can be configured with any assortment of windows, doors, ventilation options, plug-and-play lighting and electrical systems, shelving or hanging bar systems, as well as partitions for different growing zones.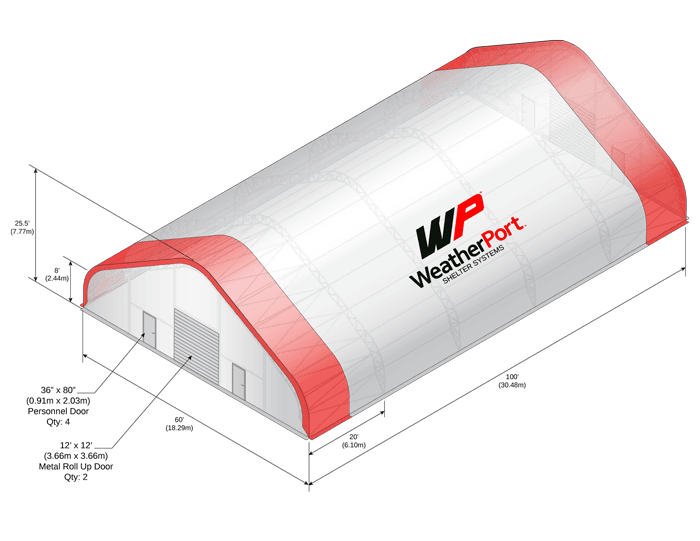 Commercial greenhouses requiring a width greater than 30', can rely on the double-arched gable design of our DAGB Series commercial greenhouses to provide the needed growing space! Engineered up to 150' wide and configurable to any sidewall height or length, the DAGB Series can accommodate the growing needs of any medium- or large commercial growing operation. A open span design allows for maximum use of interior space, without the need for support columns. With a minimal foundation requirement, the DAGB Series commercial greenhouse can be delivered and installed onto virtually any level surface in a fraction of the time compared to other greenhouse structures. Use the button below to request more information or receive a quote for the DAGB Series commercial greenhouse.
Contact Us Today to Design a Commercial Greenhouse
Rely on our 50-plus years of industry-leading expertise! We manufacture all our commercial greenhouse systems in the USA and to the same specifications as our engineered building systems, using the highest quality materials, to create a product that will outlast and outperform other greenhouse systems. Investing in a WeatherPort commercial greenhouse is not only a smart decision, but an investment based on faster revenue generation, virtually maintenance free construction, and unbeatable durability. Contact us today to start designing the perfect commercial greenhouse for your growing needs!