PICNIC SHELTERS CREATE PROTECTED DAY-USE FACILITIES
It's summer. School is out. The sounds of birds singing, children laughing, and smells of barbeque delicacies being cooked up conspire to create a wonderful day at the local city park. That is, until bad weather decides to spontaneously roll-in and ruin the festivities. In less than 15 minutes, the park is nearly empty, minus the few dedicated souls that are either willing to "wait it out" or not let a torrential downpour distract them from trying to have fun. The rest of the people, now soaking wet and on their way home, curse the weatherman for obvious reasons.
Wouldn't it be nice if the local city park, other parks, and campgrounds had more covered picnic shelters to enjoy outdoor adventures, regardless of the weather?
WeatherPort is the world's leading provider of engineered fabric structures for covered outdoor spaces, including picnic area shelters. Our sturdy fabric structures allow you and guests to make the most of the outdoors. WeatherPort picnic shelters can be installed on any surface, used seasonally or left up year-round, providing shelter and protection in any location. WeatherPort picnic shelters block harmful UV rays and create a comfortable shaded area on hot summer days, an area to seek refuge and stay dry when downpours occur, and even a covered area to rest and sip on your favorite hot drink between rounds of playing in the snow.
DESIGN A COVERED PICNIC SHELTER
WeatherPort picnic area shelters are built to last. Our engineers have spent more than 50 years perfecting and engineering our tensioned fabric membranes to provide the greatest level of reliability and durability. Our long-lasting fabric membranes will not rot, are mold and mildew resistant, UV stabilized for extended amounts of exposure to the sun, and exceed the fire ratings outlined in the California Code of Regulations (CCR) for membrane structures. Choose from a selection of bright or muted colors, color patterns, as well as the ability to print logos or graphics directly onto our fabric membrane!
Enjoy peace of mind knowing our high-strength frames will protect campground and park guests during inclement weather. Depending on the picnic shelter you require, as well as the building codes for your area, our metal frame systems can be made of lightweight aircraft-grade aluminum or galvanized steel. An optional powder coating can be applied to either framing system, providing an additional layer of protection for areas along water or prone to sea-spray. Choose from a wide selection of power coating colors to enhance the beauty of your picnic area shelter or to match existing picnic shelter infrastructure.
With a near endless amount of customization options, you'll have the ability to design a unique picnic area shelter that will keep guests coming back to your campground or park! Increase park revenue with additional covered picnic shelters from WeatherPort! Our picnic shelters can be equipped with skylight materials to create an inviting and bright interior, while reducing energy costs for lighting during the day. All WeatherPort fabric structures can be equipped with our plug-and-play electrical systems, to provide guests with the ability to charge mobile devices or plug in custom party lights, as well as cooking appliances and coolers.
Whether you are looking for a small, portable picnic shelter for your next outdoor adventure, or want to provide campground and park guests with a safe and covered picnic shelter, we can help! Click the button below to request a consultation or call us at 970-399-5909 to discuss your picnic area shelter needs with a friendly WeatherPort building specialist!
POPULAR WEATHERPORT PICNIC SHELTER AREAS
Allow campground and park guests to enjoy the outdoors regardless of weather with covered picnic shelters from WeatherPort! Our picnic shelters create inviting covered outdoor spaces, giving guests the ability to enjoy the amazing panoramic views, host weddings, and gatherings of every sort. The following models are our most popular building systems used for covered picnic shelters!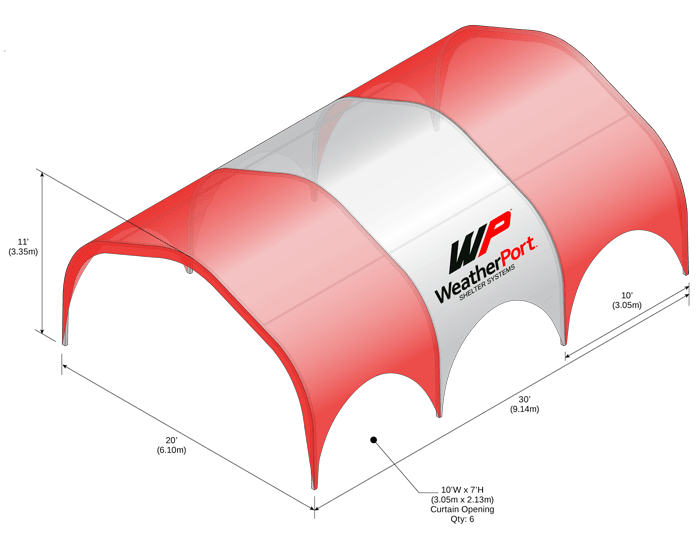 Our Jubilee picnic shelters are built for versatility and strength. They're easy to assemble, safely anchor to any surface, and provide an unmatched degree of safety against bad weather. Whether you're looking to provide guests a shaded area to escape the summer sun, an outdoor event structure for weddings and gatherings, or a picnic shelter to cover picnic tables at a campground, our Jubilee series can be customized to meet your picnic shelter needs. To learn more about the Jubilee series, click the button below.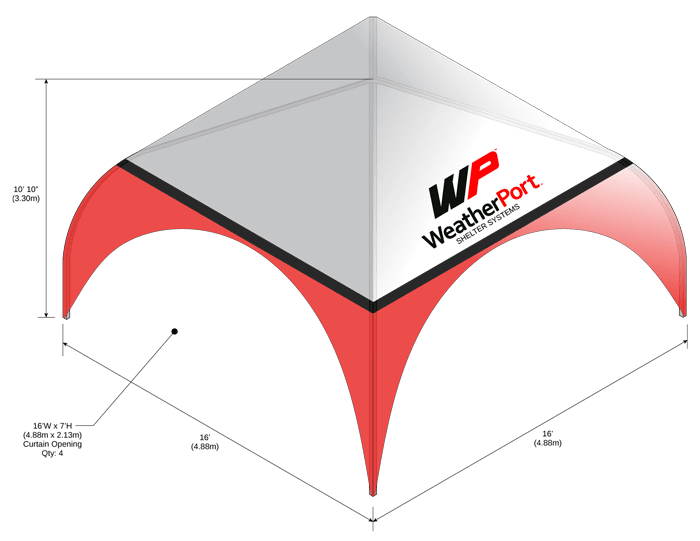 Available in many sizes, the Canopy Series from WeatherPort is a family of ruggedly durable outdoor structures capable of being setup on any surface. The portability of the Canopy series makes them ideal for seasonal or year-round picnic shelters. Choose from a large selection of customization options to make your picnic area shelters truly unique, including: fabric colors, color patterns, printed logos or designs, roll-up or removable side curtains. For more information on the WeatherPort Canopy Series, click the button below. You can also custom-design your own 10′ x 10′ canopy with our new quote builder.
CONTACT US TO DISCUSS YOUR PICNIC AREA SHELTER NEEDS
Rely on our 50 years of providing engineered fabric structures for your upcoming picnic shelter needs! Whether it is a single picnic shelter, or you need 50 shelters to enclose picnic table areas for your city's parks, a friendly WeatherPort building specialist will work with you to design and quote the ultimate picnic shelter!