RUGGED SHELTERS FOR GUIDE & OUTFITTER CAMPS
Hiking guides, fishermen, camp leaders, and nature guides of all sorts have one thing in common: they know the outdoors.
If you fall into one of those categories, you've probably been through your fair share of rough weather, and you know what gear works and what gear doesn't.
Visitors and guests trust you to navigate them to remote places deep in the forest, to a secluded bay, or high into the mountains. They trust you to help them experience the best nature has to offer while staying safe and protected. When you're responsible for other people's safety, you need assurance that your guide and outfitter camps can withstand the worst conditions possible.
That's why guides choose WeatherPort for their outfitter camp, lodging, or wilderness resort needs.
When you invest in engineered fabric structures from WeatherPort you're choosing state-of-the-art camp facilities, perfected over 50 years and providing your guests with the ultimate outdoor experience available!
Since opening our doors in 1968, we have shipped our fabric structures to more than 85 countries around the world.
The durability, reliability, reusability, portability, engineering, and attention to detail put into every WeatherPort structure are unrivaled. All our building systems are customized to your specification and individually manufactured in the USA, by hardworking Americans.
GUIDE & OUTFITTER CAMPS DESIGNED FOR DURABILITY AND SAFETY
With WeatherPort products, you can offer:
-A small number of guests have an intimate encounter with wildlife.
-Larger groups looking to relax and enjoy the serenity of the wilderness.
-The best hunting adventure.
-A fishing camp during the spring and summer months.
Our fabric building systems are easy to install, will withstand the test of time, and offer guests an amazing outdoor and weatherproof experience.
We understand guides and outfitters are concerned with the volume, weight, and setup of all the gear and equipment needed to provide guests with the award-winning experience that will have them talking for years to come.
This is especially true for pack-in camps, drop camps, remote camps, high country camps, or mountain adventure base camps – areas that are roadless or hard to access. By design, WeatherPort camp facilities are engineered for portability.
We offer to carry bag systems for transportation by hand, horse, ATV, or helicopter. We also produce our own roto-mold containers in an assortment of sizes that are perfect for the transportation and storage of our camp structures.
Our engineered fabric structures employ a high-strength frame system available in galvanized steel or lightweight aluminum. The architectural membranes of our structures are produced with a proprietary blend of materials and impregnated with UV stabilizer, allowing our tensioned fabric structures to be set up and used in areas with extreme solar loads either seasonally or for year-round use.
Our tensioned membrane structures create a weatherproof and comfortable interior, so guests will not have to worry about heavy rains, snow, or strong winds.
From a maintenance standpoint, engineered structures are virtually maintenance-free. The fabrics will not rot because they are treated with a mold and mildew inhibitor, they will not tear, and they exceed the California Code of Regulations (CCR) for membrane structures in terms of fire safety.
Guides and outfitters will appreciate the thought that goes into our camp facilities when determining the best place to set up camp.
We specifically engineer all the structures with the minimal tool and minimal foundation requirements. This means less time preparing the ground or campsite to begin setting up your WeatherPort structures.
Avoid cold fingers fumbling with small nuts and bolts, being exposed to the harsh temperatures of late winter or early spring.
Our engineered fabric structures can be set up and securely anchored into virtually any level surface.
We offer an assortment of flooring systems designed to provide comfort and keep the critters and bugs out of your guests' cabins.
Call us today at 970-399-5909 to discuss your guide and outfitter camp needs! A friendly WeatherPort building specialist will work with you to meet the challenging requirements of your camp! Alternatively, you can click the button below to request a free consultation!
DESIGN THE ULTIMATE FABRIC STRUCTURES FOR YOUR GUIDE & OUTFITTER CAMP
Nearly every feature of a WeatherPort structure is customizable. Unlike big box retailers that sell "set" camping tents, each WeatherPort is completely customized to your exact camp structure need. We offer a large selection of building models configurable to different widths, heights, and length. Once a building model and size has been determined, a friendly WeatherPort building specialist will work with you to select window, vents, door treatments and placing. We also offer complete systems for lighting and electrical, insulation, HVAC, flooring, as well as power generation and distribution.
In addition to designing the perfect camp system, you can also customize the colors of your WeatherPort structure. So, whether you want to create shelters that blend in nicely with the natural surroundings, stand-out, or promote your guide and outfitting business with large logos, we have a large selection of fabric colors and in-house printing capabilities to create one-of-a-kind structures.
The following WeatherPort models are our most popular with guides and outfitters for camp structures.
The WeatherPort Yurt is a revolutionary take on the Mongolian "Ger". We've taken the concept of the Yurt and brought it into the 21st century with advanced engineering to provide exceptional strength, durability, customization, and portability.
WeatherPort is the only manufacturer of engineered Yurts with steel frames.
The WeatherPort Yurt is available in the following sizes:
12' wide Yurt with 8' eave and 10.8' peak height
18' wide Yurt with 9' eave and 12.9' peak height
20' wide Yurt with 9' eave and 13.5' peak height
24' wide Yurt with 9' eave and 14.0' peak height
30' wide Yurt with 9' eave and 15.1' peak height
Design a Yurt to be a stand-alone structure or create a complex of WeatherPort Yurts that connect with WeatherPort hallway structures to create separate living spaces.
WeatherPort Yurts can be customized with the same features as our other shelters to create a cozy or comfortable and energy-efficient space. To learn more about the WeatherPort Yurt Series, click the button below!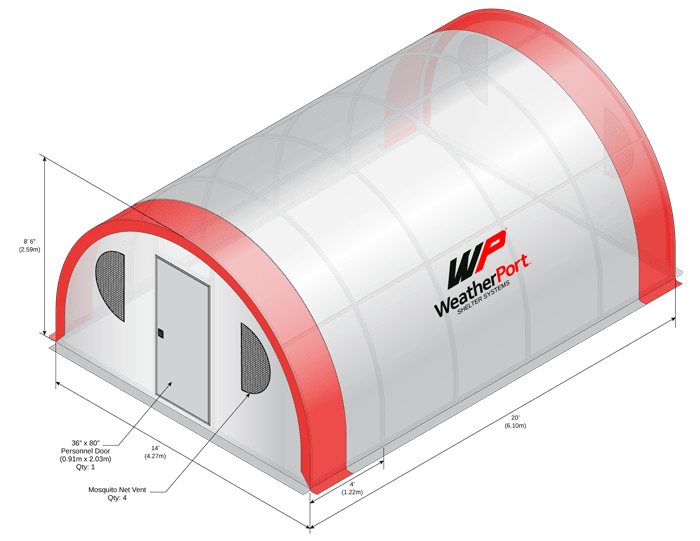 The SQ Series of structures is another modern take on the well-known Quonset hut. Beyond the overall shape, the similarities stop right there. Our SQ Series structures are engineered to meet specific wind and snow loads, can be insulated to increase energy efficiency, equipped with plug-and-play lighting and electrical systems, HVAC systems, and are designed for rapid setup and portability. The SQ Series of structures are available in 15' to 30' widths and can be customized to any length in either 2.5' or 5' increments. To learn more about the WeatherPort SQ Series, click the button below!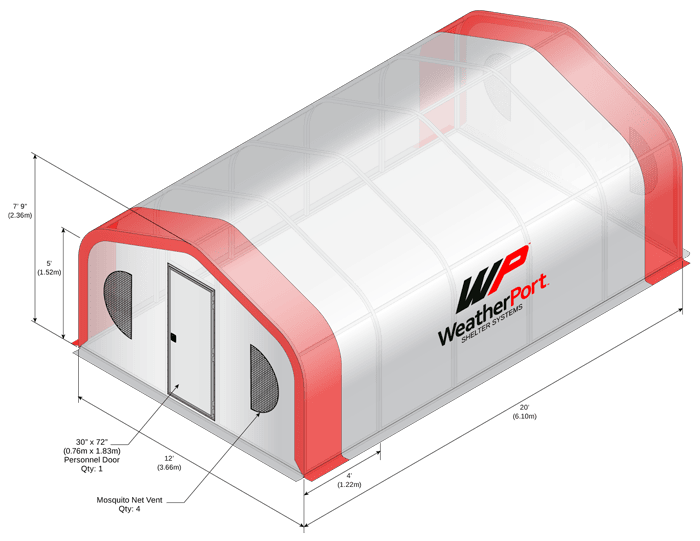 Guides and outfitters looking for a high-quality camping structure available in widths from 8' to 20', and customized to any length will find the straight-wall design of the GB Series very accommodating for guests! Choose from single person camping structure, camping structures for two people, or larger GB Series to accommodate multiple guests at a time or to create common areas for gathering, including: kitchen and dining facilities, recreation or activity centers, as well as equipment storage facilities for all your campsite's gear.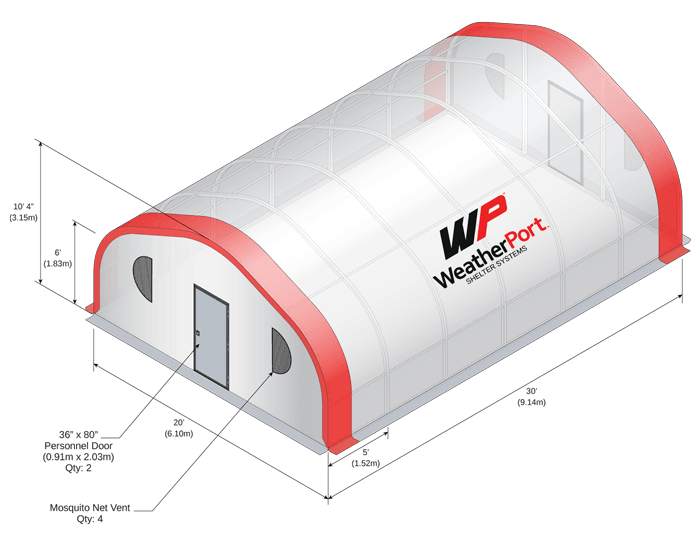 For an unrivaled outdoor adventure, and for areas that experience severe wind or snows, the HGB Series from WeatherPort offers unmatched durability. Available in 15', 16', 20', 26', and 30' widths, the HGB Series can be customized to any length in increments of 10'. The HGB Series can be designed with internal partition systems to create separate living areas for many guests, or left open for large communal or entertaining spaces. Learn more about the HGB Series from WeatherPort by clicking the button below.
CONTACT US TODAY TO START DESIGNING A GUIDE & OUTFITTING CAMP
Being a company based in the beautiful state of Colorado, with a dedicated team of employees and a love and affinity for the outdoors, we have a great understanding and 50-plus years of proven excellence for what a camp structure needs to be able to do. Contact us today to discuss designing a guide and outfitting camp that meets and exceeds all your adventure needs!