WAREHOUSE BUILDINGS AND EQUIPMENT STORAGE MADE EASY WITH FABRIC STRUCTURES
Why leave expensive machinery and equipment vital to your business' success exposed to harsh weather conditions – to rust, wear down, or become damaged and require expensive repairs? Sensitive electrical systems are particularly at risk with equipment that is vulnerable to rain, snow, sand and extreme temperatures. To protect these assets, thousands of businesses and individuals around the world have invested in WeatherPort warehouse buildings and equipment storage facilities for more than 50 years.
There are many types of warehouse buildings. Our tensioned fabric structures offer several key advantages for on-site warehousing and equipment storage applications when compared to conventional warehouse buildings or storage facilities made of wood, concrete, brick, as well as steel buildings.
Save time and reduce construction costs. Warehouse structures and equipment storage facilities from WeatherPort can be assembled in a fraction of the time required to construct a concrete, tilt-up, brick, or steel warehouse building.
Engineered for durability. All WeatherPort warehouse structures and equipment storage facilities are engineered to meet local building codes to withstand harsh weather conditions, including strong winds and heavy snows for safety and provide an unmatched level of protection for valuable assets.
An unobstructed interior. Free-span warehouse designs up to 150' wide, to any height or length provide maximum use of interior warehouse space to store multiple or oversized pieces of equipment and supplies.
Permanent or temporary structures. By design, a WeatherPort warehouse building or equipment storage facility can be installed as a permanent building solution, or used as a temporary warehouse structure for short seasonal projects. Our warehouse structures offer an unrivaled ability to be taken down and easily moved to different job sites.
WHAT IS THE COST TO BUILD A WAREHOUSE?
Customization is another key advantage of choosing WeatherPort to fulfill your warehouse or equipment storage facility requirement. While we have an inventory of pre-fabricated warehouse buildings and warehouse building plans available, companies as well as individuals often require custom warehouse designs to meet specific equipment storage needs. Our warehouse structures can be equipped with any assortment of overhead doors, personnel doors, windows, skylights, hard and soft-wall partition systems, HVAC, lighting and electrical systems, and insulation systems to create energy efficient warehouses.
There are many factors that influence and determine the cost of a warehouse structure from WeatherPort, including:
Size of a warehouse. Whether you need a 10,000-square foot warehouse, a 25,000-square foot warehouse, a 50,000-square foot warehouse, or a warehouse greater than 100,000-square feet will have a large impact on the price of a warehouse building.
Warehouse engineering. WeatherPort takes the safety and the engineering of our tensioned fabric structures very seriously. We design and engineer our warehouse buildings and equipment storage facilities to meet specific local building codes for wind, snow, and seismic loads to ensure the protection of equipment, supplies, and workers. The scope and amount of engineering required to construct a warehouse building capable of meeting building codes will drive the cost of a warehouse.
Warehouse design and layout. It's important when designing a warehouse to determine the work flow, warehouse logistics, storage activities, and warehouse operations taking place within the warehouse. This will help determine the placement of overhead doors, placement of warehouse storage racks, and loading docks for maximum efficiency and use of interior space and accessibility. The amount of customization and design will influence the cost of a warehouse.
Warehouse building options. When you choose a warehouse structure from WeatherPort, we provide many additional choices for configuring a warehouse to meet your specific storage needs. Our skylight material utilizes natural light to create a bright interior during the day, reducing energy usage for artificial lighting systems as well as reducing overall operating costs. Equip your warehouse with an insulation system to meet any insulative R-value to increase energy efficiency, or combine with HVAC systems to create a temperature controlled warehouse and cold storage warehouse. All of these design aspects will affect the cost of a warehouse.
Creative warehouse marketing and warehouse branding. WeatherPort warehouse structures can be designed to blend in with existing warehouse infrastructure, matching already determined building or warehouse color schemes, or designed to stand out and promote your company and warehousing services. We offer a wide selection of fabric membrane colors, color patterns, as well as in-house logo printing capabilities.
These are just a few of the factors that will influence the cost of a warehouse. To provide you with an accurate warehouse quote, or to determine the square footage price of a warehouse, please contact us at (970) 399-5909 or use the button below to request a free warehouse consultation. A friendly WeatherPort warehouse building specialist will work with you or your warehouse management team to design and develop a warehouse building solution that meets your storage requirements and provide costing information.
TYPES OF WAREHOUSES
The versatility and open span design of WeatherPort engineered fabric structures cater to a wide range of warehousing and storage building applications, including:
Private Warehouses
Public Warehouses
Light Industrial Warehouses
Industrial Warehouses
Automated Warehouses
Distribution Warehouses and Distribution Centers
Parts Warehouses
Climate-Controlled Warehouses
Temporary Warehouse Structures
The following WeatherPort building systems can be designed to meet your equipment storage and warehousing needs: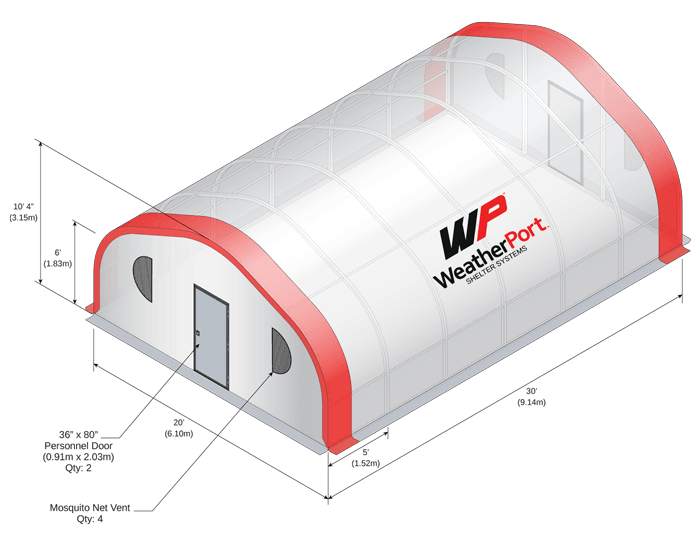 Our heavy gable buildings (HGB) are designed for safety in permanent and temporary warehouse applications. The HGB series warehouse buildings can be up to 30′ wide and customized to any length, making them ideal for storing small- to mid-sized pieces of equipment. With our wide range of colors and near-limitless options for customizing your HGB series warehouse structure, you can create the perfect equipment storage facility.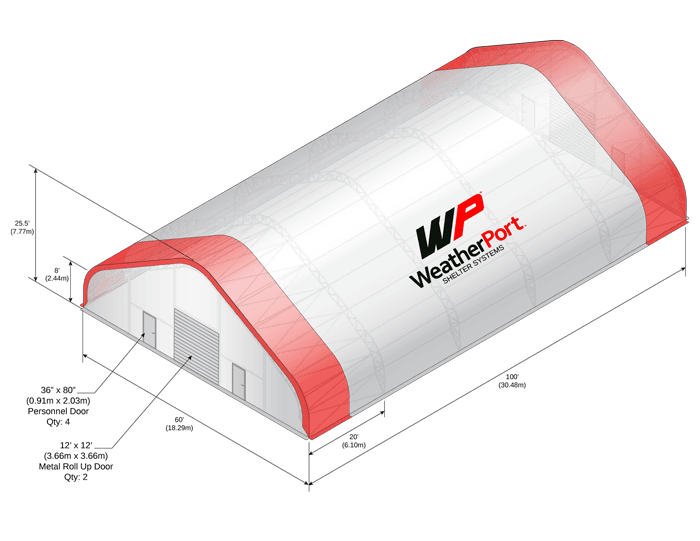 For larger equipment storage facilities, the storage of many vehicles, distribution centers, or requirements for large warehouse space, our DAGB fabric building series can be engineered up to 150′ wide, with any side height, and to any length. The open-span design allows the for the maximum use of interior space. With minimal foundation requirements, shorter and cost saving construction schedules, and energy efficient insulation systems, the modular and relocatable advantages as well as the performance of WeatherPort warehouse buildings cannot be matched.
CONTACT US TODAY TO DESIGN A WAREHOUSE STRUCTURE
We handcraft our tensioned fabric structures, utilizing the highest quality materials, the latest manufacturing techniques, while employing hard working Americans to design, engineer, and produce the longest lasting and most durable warehouse structures available. Rely on our 50-plus years of proven experience designing, engineering, and providing warehouse buildings and equipment storage facilities!
If you would like additional information about WeatherPort warehouse buildings, or to design a warehouse structure, request a consultation by clicking the button below or calling (970) 399-5909 today to speak with a WeatherPort building specialist!