Fabric Structures are Ideal for Indoor Practice and Training Facilities
Businesses operating in the athletic, fitness and training industry, schools including colleges and universities, physical therapy and rehabilitation clinics, YMCAs, and sports teams all require indoor practice facilities for training. Typically, these kinds of organizations use large gymnasiums and traditional buildings for these types of facilities, but tensioned fabric structures offer many advantages when used for sports facilities.
Instead of taking months to construct, as traditional sports facilities require, indoor practice facilities, athletic facilities, as well as fitness and training centers that utilize an engineered fabric building can be deployed in a matter of days or weeks, depending on the size and scope of the project. This highly reduced lead times means that recreational organizations and sports teams can get into their new practice facility in a shorter amount of time and begin training regimens earlier to gain a competitive advantage.
WeatherPort® Shelter Systems offers completely custom, engineered, and high-quality sports facilities that can be quickly and easily set up and either left in place permanently, or taken down and transported to new locations. Indoor practice facilities and training facilities with this level of portability can follow a mobile sports team and provide the home-court advantage that you won't find with brick-and-mortar buildings.
The free span interior design of our engineered structures allows for maximum use of space. This is important for many ball sports and athletic activities, where support beams and columns would get in the way or interfere.
Our fabric structures are designed and engineered for durability and longevity, even in the harshest climates and extreme locations around the world. We utilize the latest manufacturing techniques, combined with the highest quality materials, and engineer our buildings to meet current local or international building codes for safety. Our architectural membranes are PVC based, mold and mildew resistant, will not rot, and are impregnated with a patented and proprietary UV stabilizer to offer an unmatched level of durability in any environment, including those with high solar loads. Our metal frame systems are made of galvanized steel, and in corrosive environments, such as along the cost where sea-spray is common, we offer powder coating. Gain peace of mind knowing your members, students, athletes, and sports teams will be kept safe and able to practice in a WeatherPort indoor training facility, regardless of the weather.
To learn more about our tensioned fabric buildings for indoor sports facilities, indoor practice facilities, or indoor training facilities, call us at 970-399-5909 or click the button below to request a consultation!
Design an Indoor Practice Facility or Indoor Training Facility
When selecting the right WeatherPort building solution for your indoor practice facility or training facility, our building specialists will work with you to identify the ideal fabric structure to fit your needs. Our most commonly used fabric building models for indoor practice facilities or indoor training facilities include our HGB or DAGB series structures. Feel free to learn more about each building model, available sizes, and customization options to design an indoor practice facility!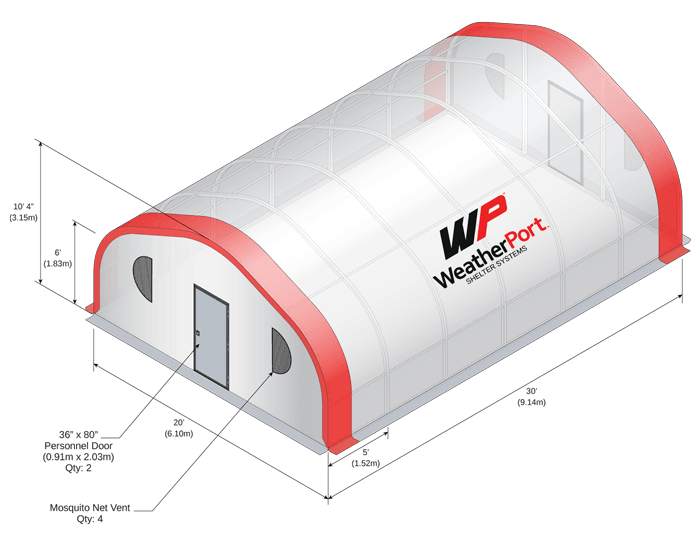 Available up to the 30' wide and customizable to any length, and to any height, our HGB series (heavy-duty gable building), is the perfect solution for small- to mid-size indoor training facilities. The HGB Series is engineered to provide a very strong and long-lasting building solution, while maintaining the portability and easy installation capability that WeatherPort structures are known for. Further customize our HGB Series fabric building with a wide assortment of color and branding options, windows and doors, HVAC and ventilation systems, insulation and other energy saving systems, as well as a wide selection of energy efficient lighting and electrical systems. To learn more about the HGB Series, please click the button below.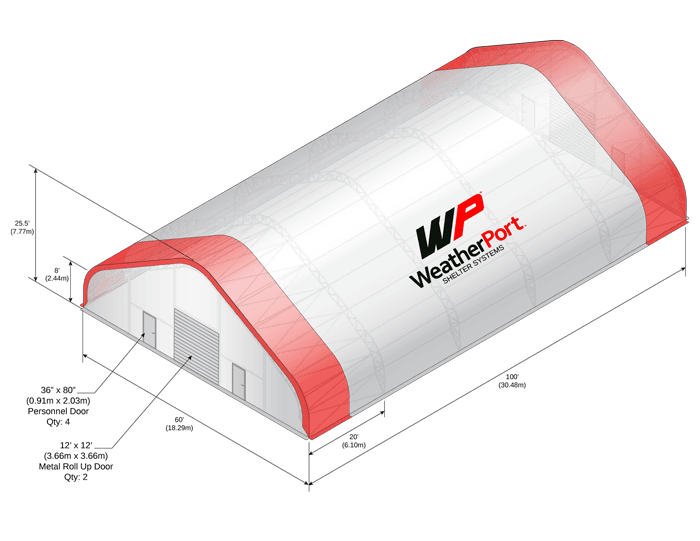 For large indoor practice facilities and training facilities, the WeatherPort DAGB Series offers an unrivaled degree of safety and durability. Perfect for year-round indoor training, conditioning, and indoor practice. The double-arch gable-style building is available up to 150' wide, to any length, and to any height. The open span design of the DAGB Series fabric building, makes them ideal for large-scale indoor training facilities, gymnasiums, court covers, Olympic-size pool or aquatic centers, or athletic facilities. Click the button below to learn more about the WeatherPort DAGB Series!
Energy-Efficient Indoor Training Facilities
Energy consumption is a big concern for sports facilities. From powering equipment, to maintaining comfortable temperatures for the members and athletes using the space, there can be big energy costs associated with an indoor training facility. Engineered fabric buildings from WeatherPort offer many great energy efficient systems to help reduce the costs of operations. Below is a list of energy saving solutions available for our indoor training facilities.
Skylights. Utilize natural sunlight during the day with our translucent skylight fabric. Our indoor training facilities can be designed with a single strip of skylight material at the peak, or custom design the entire ceiling to be made of our skylight material to create a bright interior and reduce energy costs.
Insulation. Choose from a wide selection of insulation systems, capable of meeting any R-Value. Our insulation systems are designed to seamlessly integrate with our fabric building systems, creating an interior that can be heated or cooled efficiently and reduce energy usage.
Metal Frame System. Unlike "bubble" or inflatable tents that require a constant fan to remain inflated, our engineered fabric building systems employ a rigid metal frame system. Our building systems are engineered to meet local building codes, so when the weather turns for the worst – with windy, freezing, or snow conditions, the entire facility doesn't have to be shut down or deflated to avoid damage.
LED Lighting Systems. Reduce energy usage and operation costs of replacing expensive stadium light bulbs with our energy efficient LED lighting systems.
Additionally, the long-lasting, high-strength nature of our engineered fabric structures reduces the need for repairs and ongoing maintenance, when compared to conventional building systems. Once setup, a WeatherPort indoor training facility is virtually maintenance free.
All WeatherPort fabric buildings are designed to be shipped in low-cube packaging, and compared with metal buildings, or conventional building materials, offer a drastic savings in logistical and transportation costs.
To learn more about the eco-friendly and energy-efficient nature of our fabric structures for your indoor practice and training facility needs, please call 970-399-5909 or click the button below to request a consultation with a friendly WeatherPort building specialist!
Contact Us to Discuss Your Sports Facility
For more than 50 years, WeatherPort has led the indoor practice and training industry, bringing tensioned fabric structures to a wide range of industries and applications. Our building specialists' expertise has been proven time and again with custom building projects of all sizes, and uses. The engineering, strength and longevity of our structures is unmatched and proven by thousands of customers worldwide that have chosen to invest in a high-quality fabric building from WeatherPort. Contact us today to get started on a custom designed fabric building for your new indoor practice and training facility.