Building a Gymnasium or Auditorium with Fabric Buildings
WeatherPort fabric buildings are the perfect solution for gymnasiums and auditoriums. Our gymnasiums provide a safe, non-hazardous, energy efficient, and weather proof facility for indoor sports and fitness training. Whether you are the superintendent of a school district needing a school gymnasium for the construction of a new school, the athletic director of a university interested in expanding athletic programs requiring additional gymnasium buildings, or the head coach of a professional sports team looking to build an indoor gymnasium as a sports team training center, WeatherPort has worked with individual schools, school districts, universities, and professional sports teams thru all stages of planning a gymnasium, designing a gymnasium, and building a gymnasium. WeatherPort has 50-plus years of proven experience creating custom gymnasiums and auditoriums for year-round use around the world.
Gymnasiums and auditoriums from WeatherPort can be used and easily adapted for many purposes. Our custom-designed multi-purpose recreational facilities are ideal for the following:
Gymnasiums for Schools, Universities, and Churches
Fitness Facilities
Youth Centers
Community Centers and Activity Facilities
Sports Team Training Centers
Rehabilitation and Physical Therapy Centers
Auditorium Space for School Events, Pep Rallies or Pep Assemblies, and Before or After School Programs
While traditional gymnasiums and auditoriums can take several years to plan and build, tensioned fabric structures from WeatherPort provide all the benefits of conventional buildings in a fraction of the time. Our gymnasium and auditorium structures require minimal foundations, reducing overall pre-construction and development costs, as well as reducing the environmental impact. Our engineered fabric buildings are designed to be installed in as little as a few days, minimizing the construction phase and cost of the project. Once setup, our gymnasium and auditorium structures are virtually maintenance free, nearly eliminating maintenance upkeep costs associated with other building types. We offer many insulation packages (capable of meeting any R-Value) and HVAC systems to create a comfortable and energy-efficient space conducive to physical activities, events, and assemblies. All WeatherPort tensioned fabric structures offer an unmatched ability to be taken down and relocated, making them the ideal gymnasium or auditorium for possible future site changes.
If you would like more information about our gymnasium or auditorium structures or would like to work with a WeatherPort building specialist to design a gymnasium or auditorium facility, we encourage you to request a consultation by clicking the button below, or by calling us at (970) 399-5909!
Gymnasiums and Auditoriums Engineered for Safety
Each WeatherPort gymnasium and auditorium is engineered to meet local or international building codes, and specifically designed to withstand the wind and snow loads of your particular location. Whereas other fabric building companies will boast the "snow shedding" capabilities of their gymnasium structures, what they are really saying is their engineering is actually less than the required building codes. Having started and being headquartered in the great state of Colorado, we know that winter can bring both dry and wet snows. And we know that wet snow will stick to virtually anything, and given the right circumstances, if temperatures drop below freezing, what you end up with is a mixture of ice and snow that can weigh heavy on any type of building structure. In such locations with heavy snow loads, we always encourage buildings be engineered to meet the wind and snow loads. We take safety very seriously, and as such, do not rely on a "snow shed" capability. Whether it is a professional sports team training in their indoor gymnasium, or school children attending physical education classes in the middle of winter, gain peace of mind knowing you and your team or students will be kept safe in a WeatherPort gymnasium or auditorium.
Design a Gymnasium or Auditorium
Nearly every facet of our fabric buildings can be custom designed to meet your exact gymnasium or auditorium specification. If it can be done or added to a conventional building system, we can do the same thing with a WeatherPort gymnasium or auditorium building. Our in-house engineers and design team will work closely with you, your project management team, engineering and construction firms, architects or architectural firm to design the ultimate gymnasium or auditorium to meet your needs.
Below is a list of items that are commonly customized on our gymnasium or auditorium buildings:
Size: WeatherPort gymnasium and auditorium facilities can be engineered up to 150' wide, to any height, and to any length.
Open Span Design: Allows for maximum use of interior space without the need for support columns.
Non-Hazardous Materials: We use the highest quality and non-hazardous materials in our building systems.
Colors: Choose from a large selection of membrane colors, color combinations, and patterns to create a visually stuffing gymnasium facility.
Logos: WeatherPort is one of two companies in the United States with in-house printing capabilities, using a specially designed large format printers, using the latest flatbed printing technologies to print directly to our membranes. This gives us an unmatched ability to not only create the engineered fabric building, but be able to apply school mascots, church names, or team logos in vivid and stunning detail.
Windows and Doors: Need large roll-up doors to move equipment in and out of your gymnasium or auditorium facility? No problem. By law, are you required to place doors with panic hardware at specific locations to ensure safe exit procedures? Do you want large windows in the entrance area to create an even more expansive and open feel? We can equip our fabric buildings with any window or door system.
Skylights: Utilize natural light to brighten the interior of your gymnasium and auditorium during the day time. Our skylight material can be sized according to your needs, and diffuses sunlight to create a soft but bright source of light, reducing the need for energy consuming lights.
Lighting & Electrical Systems: We offer a large selection of lighting systems for our building systems. Whether it is using the latest LED lighting technology to reduce energy usage, or you require metal halide stadium lighting, our design and engineering team can help you choose a lighting system to meet your needs. Our electrical systems are available in 50Hz or 60Hz.
Insulation Systems: Reduce energy usage with energy efficient insulation systems from WeatherPort. We produce many of our insulation systems in-house, capable of meeting any R-Value.
Partitions: Would you like to have different sections for different activities? Our partition systems are designed to create separate areas within our gymnasium or auditorium facilities.
The following WeatherPort models are our most popular fabric buildings used by schools, universities, churches and sports teams around the world for building a gymnasium or auditorium facility: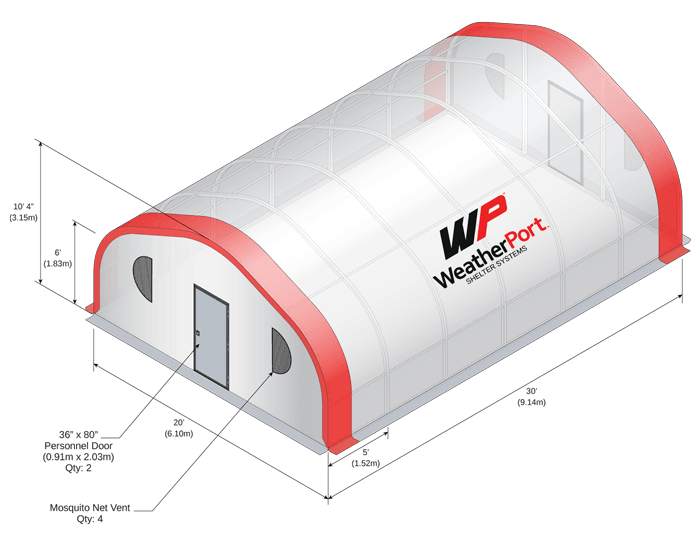 Our heavy-duty HGB Series are available up to 30' wide. Perfect for smaller gymnasium or auditorium applications in areas with strong winds and heavy snow loads!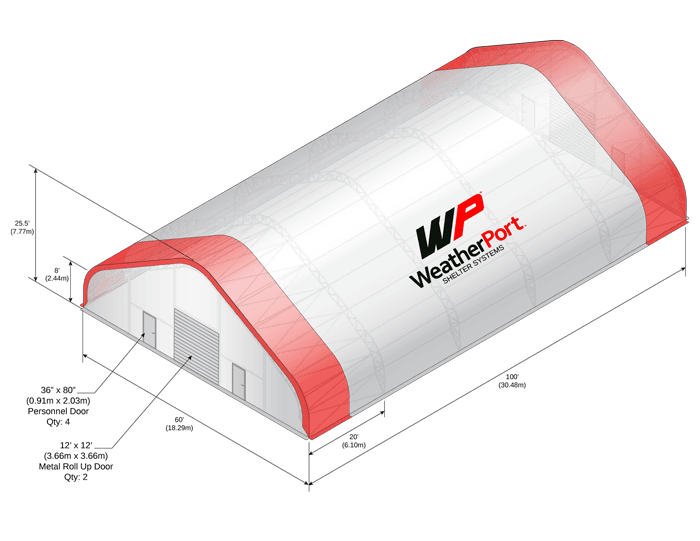 Large fabric buildings from 30' wide to 150' wide, to any height or length. Custom-designed to meet any gymnasium or auditorium building requirement.
Contact Us for Gymnasium and Auditorium Pricing
If you would like more information, or to inquire about designing a gymnasium or auditorium for your school, university, church or sports team, we encourage you to contact us by requesting a consultation using the button below or calling us at (970) 399-5909!