Swim Year-Round With A Backyard Pool Enclosure
Whether you have long enjoyed using your backyard pool, are planning to install a pool, or are moving into a home already equipped with one, you will spend a considerable amount of time and resources on pool cleaning and upkeep… so why not ensure you're getting the greatest possible return on your investment? You and the whole family should be able to use your pool on a year-round basis for many years to come – not just during spells of agreeable summer weather.
As a homeowner, you go to great lengths to protect your property so that you may enjoy it to its greatest potential. The same applies to all of the additional household investments you make in the name of practical, aesthetic, or recreational gain. Your swimming pool should be no exception. In addition to preserving your pool from harsh and damaging elements, including flooding after a severe storm and fading caused by consistent exposure to sunlight, a WeatherPort backyard pool enclosure will shield swimmers from harmful rays and allow for safe and comfortable use in any season.
Unlike pool cages or mesh screen enclosures, WeatherPort's tensioned fabric structures offer full coverage and UV protection. Those who prefer the best of both worlds – access to natural light plus a durable protective barrier – can take advantage of extensive customization options to add a variety of door and window styles.
Learn how one of our backyard pool enclosures can upgrade your at-home swimming experience. Click below to request a consultation or speak with a WeatherPort representative at 970-399-5909 for more details.
Benefits of a Fabric Backyard Pool Enclosure
Regardless of outdoor conditions, every WeatherPort structure's heavy-duty tensioned fabric is adaptable to your desired level of temperature control. In the summer heat, a backyard pool enclosure can offer much-needed shade in direct sunlight. If the winter chill is a concern, we can fortify your pool enclosure with additional insulation so you're able to enjoy a leisurely swim even in freezing outdoor temperatures, while reducing energy costs!
Though the structure itself will provide a degree of temperature control, pool owners seeking to more closely monitor internal comfort can work with a WeatherPort building specialist to accommodate HVAC systems. Further customizations can include windows or side vents to increase natural airflow when desired.
Even well-lit night swimming becomes possible (and enjoyable) with the addition of an optional lighting and electrical system. When it's time to dry off and head in for the evening, a custom vestibule can connect your pool enclosure to your house – so you can easily transition from the pool side to inside your home without having to brave the weather.
If you like the idea of a fabric building surrounding your pool throughout the winter but want to embrace open air and full sunshine in the summer, WeatherPort backyard pool enclosures are portable and can be easily taken down and stored as you please. Alternatively, your WeatherPort can be anchored to virtually any surface if you prefer to enjoy its longer term, year-round benefits.
Whether you find the perfect pre-built pool enclosure that meets your exact needs or prefer to custom design a pool enclosure, pool cleaning is bound to be simplified with the elimination of bugs and debris sealed out by our heavy-duty pool enclosures.
Request a consultation below or contact us to discover more WeatherPort pool enclosures by calling 970-399-5909.
Selecting the Best Backyard Pool Enclosure for You
Perhaps the greatest of all WeatherPort advantages is unprecedented versatility. Here are just a few types of backyard pools and equipment that can benefit from a fabric pool enclosure:
In-ground or above-ground pools
In-ground Jacuzzis
Above-ground hot tubs
Fiberglass pools
Concrete pools
Vinyl lined pools
Portable pools
Saltwater and chlorine pools
Pool pump and filter protection
Is your pool small, average, or oversized? Are you working with minimal yard square footage? WeatherPort backyard pool enclosures are available in a variety of styles and sizes to accommodate your specifications: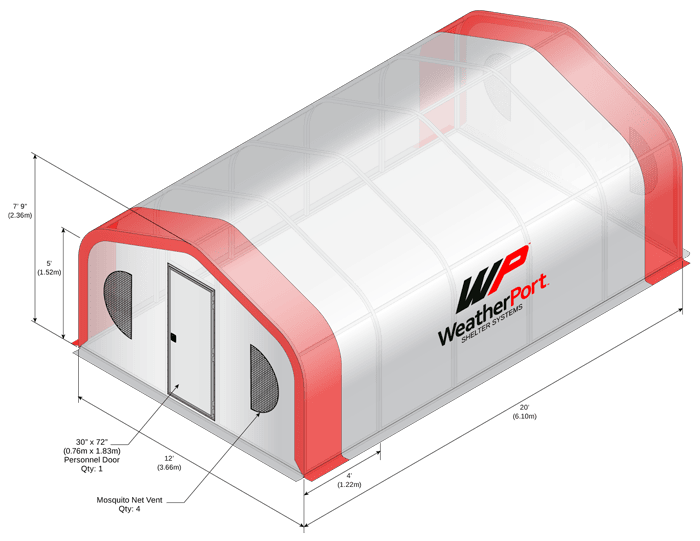 Our Gable Buildings are designed to provide complete yet adjustable coverage to improve backyard swimming conditions year-round. Choose from a selection of pool enclosure sizes and fabric colors based on your aesthetic preferences.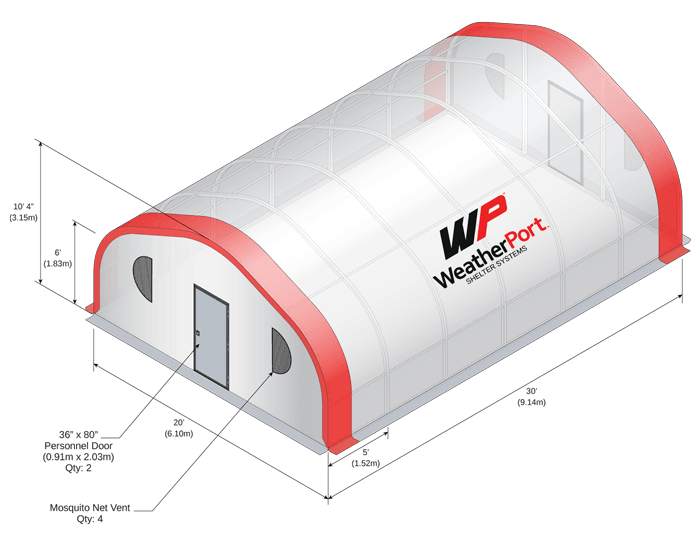 When it comes to ultra-durable protection, a Heavy Gable Building is the gold standard. Especially suitable for regions with significant seasonal climate changes, these structures are long-lasting even in the face of extreme hot or cold temperatures and weather events, leaving your backyard pool protected and keeping you safe during an anytime swimming session.
Consult with one of our pool enclosure experts to determine which fabric building model is the best fit for your backyard pool enclosure!
Contact Us to Design a Pool Enclosure!
Trust your family's personal safety, and the longevity of your property, to WeatherPort's 50-plus years of proven quality and performance. Any homeowner with a backyard pool should consider what steps they can take to protect their investment and enjoy long-term use. Whether you practice competitively or use your pool for personal leisure, a pool enclosure is guaranteed to expand opportunities for swimming. Pool parties shouldn't be restricted to summertime — contact us today to keep your pool operating year-round!