Fabric Buildings, Storage Buildings, Carports, Greenhouses & More!
WeatherPort™ offers a large portfolio of fabric buildings engineered for any application!
We are passionate about the creative process of engineering building solutions to meet our customer's unique and challenging requirements. The WeatherPort portfolio is the result of a decade's worth of engineering building solutions with proven designs for thousands of customers around the world.
From the durability, safety, customization, to the speed of construction, there are many advantages to our tensioned fabric buildings.
Our success is the culmination of our dedication to the research and development of new fabric building technologies, defining industry standards that exceed our customer's needs and expectations.
Explore our products below, or contact us if you would like to discuss your building project.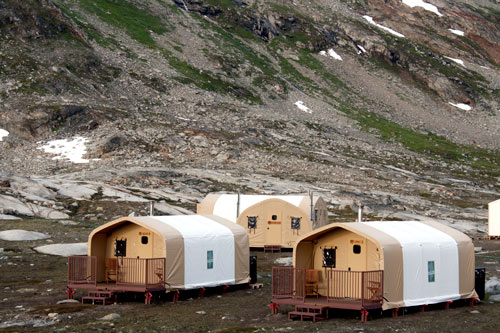 Experience the outdoors in comfort with WeatherPort camp systems! Provide work crews or guests with high-quality housing structures, mobile offices, hygiene, and dining facilities. Learn more about WeatherPort camp systems below!
Take center stage with a high-quality EventPort! Stage covers, custom canopies, concert halls, and party tents from WeatherPort raise the level of any outdoor event! Learn more about WeatherPort event structures below!