USING FABRIC STRUCTURES FOR CONCERT HALLS
Choosing fabric structures to create outdoor concert halls offers many important advantages for event planners and gives venues an opportunity for increasing revenue. Engineered fabric structures from WeatherPort® are far superior to all other outdoor event structures, and are designed to be set up and operational in a fraction of the time required to construct traditional or brick and mortar type concert halls. The shorter construction time afforded by investing in an engineered fabric structure from WeatherPort will provide a drastic reduction for both labor and overall constructions costs. So more of your upgrade budget can be spent on improving guest accommodations or opening your doors for ballet performances, music concerts, or outdoor ceremonies sooner!
WeatherPort's fabric buildings are incredibly versatile, and are custom-designed to your specific concert hall requirement. The open span interior architecture, engineering expertise, and unmatched selection of customization options make working with our friendly WeatherPort team an exciting opportunity to transform any outdoor theater or open-air amphitheater into a public or private concert hall capable of delighting 2,500+ guests or much smaller numbers for more intimate performances. WeatherPort concert halls can be designed up to 150' wide, to any side height, and to any length. And just like you would do with a building made of traditional materials (stick-built, brick and mortar, metal, or tilt-up concrete slabs), our steel buildings can accommodate stage and accent lighting, electrical systems, speaker systems, glass windows, doors, and emergency exits.
Event planners and venue owners will appreciate the ability to quickly install and take down a WeatherPort concert hall for specific performances, or to be used seasonally – during Winter, for example, when the weather doesn't allow guests to enjoy their favorite outdoor performances! Additionally, a WeatherPort concert hall can be designed and engineered to be set up and left in place as permanent installation for 10, 20, or 30+ years. The durability and longevity of investing in an engineered fabric building system from WeatherPort cannot be matched. We have more than 50 years of proven excellence, custom-designing fabric buildings for concert halls, outdoor stages, and open-air theaters.
Let us design the ultimate concert hall for your outdoor theater! To learn more about our fabric structures or to start the design process for creating your custom concert hall, please call us at (970) 399-5909, or click the button below to schedule a consultation with one of our friendly and experienced building specialists!
CONCERT HALLS ENGINEERED FOR DURABILITY AND SAFETY
One of the defining characteristics of a WeatherPort fabric building, is that we go the extra mile to ensure not only durability and longevity, but also safety. We take the safety of our building systems very seriously. We custom design and engineer all our building systems to meet the building codes for wind load, seismic loads, and snow loads of your particular area. Whereas other fabric buildings 'blanket engineer' their structures saying they can meet "up to" a certain wind or snow load, we specifically design and engineer building systems for our customers to the specification required by your local building code.
All WeatherPort structures are made in the USA, by hard working Americans. We combine the latest manufacturing techniques, using the highest quality materials to produce building systems of superior quality. We also utilize lean manufacturing processes to reduce waste. Nearly all excess materials produced, are recycled. Investing in a WeatherPort concert hall is a choice that will provide decades of enjoyment but also an environmentally friendly decision.
A great deal of thought, meticulous planning, engineering, and an exhausting amount of testing has made a name and a reputation for unmatched quality. Our architectural membranes are designed for prolonged exposure to solar radiation and will not rot, mildew or mold. Our engineered fabric structures exceed the California Code of Regulations (CCR) for membrane structures. Our high-strength frame systems work with our tensioned membranes to create a building system capable of withstanding the most extreme weather conditions around the world.
Since opening our doors in 1968, we have successfully served tens of thousands of customers in over 85 countries around the world.
HOW ARE THE ACOUSTICS IN A TENSIONED FABRIC STRUCTURE?
This is the number one question we get asked from venues and event planners considering using an engineered fabric building for classical orchestra, opera concerts, theatrical performances, outdoor music concerts, presentations, and ceremonies. Whether it is an outdoor theater, concert hall, or an extension of a performing arts center – the acoustical properties and design of any performance building need to be well understood and planned carefully.
Whereas other building manufacturers will tout their fabric as highly absorbent and capable of minimizing sound reverberation, claiming the acoustics of their buildings rival the greatest concert halls in the world, we want to share the facts and dispel some myths about the acoustical properties of tensioned membrane structures gained from our 50-plus years of success and proven experience.
Put simply, when sound waves meet a surface they are either transmitted, reflected, or absorbed. There is no known material that is capable of naturally absorbing or reflecting sound entirely. Fabric, in the traditional sense, has largely been used to absorb and arrest sound. This is often done on or near stages with thick fabric banners and felt curtains, as well as on walls and ceiling of concert halls with the use of fabric wrapped acoustical panels. Using this same logic, a "fabric" building should also be highly absorbent and help avoid the polyphonic reverberations (echo) typical of choirs in old churches. The term "fabric building" is widely used today to describe a tensioned fabric structure and as such, is challenging the conventional concepts of acoustics.
Most tensioned fabric structures used for concert halls or outdoor amphitheaters employ a tightly woven fabric – polyvinylchloride (PVC) or polyethylene (PE) fabric, tensioned over a metal frame system. It turns out, these types of fabrics are actually acoustically reflective. Not absorbent, especially for sound in the high- and mid-frequency ranges. When the tensioned fabric is coated, with a substance like flame retardant, mold or mildew inhibitors, Teflon®, or UV-stabilizer, the amount of reflectivity is further enhanced. WeatherPort utilizes a proprietary architectural membrane that is PVC-based but not coated. Our engineers developed a technique by which the flame retardant, mold and mildew inhibitors, as well as the UV-stabilizer are impregnated and become an integral part of our membrane systems, not a coating that can easily crack and peel. The manufacturing process required to do this is much more time intensive and costly. The result, is a tensioned fabric membrane that will provide a greater aesthetic, better acoustic properties, and unmatched durability for decades to come.
In addition to the acoustics of our tensioned fabric membranes, we understand one membrane system will not work for all concert hall projects. WeatherPort offers a selection of architectural membranes in different weights. We also produce liner and insulation systems that can be added to our buildings to be more energy efficient (for heating or cooling, to any R-Value), and assist with the desired acoustic properties, while minimizing reverberation. By design, the double curved surface of our engineered building systems lends to the reflection and blending of sound, so guests can enjoy a great performance whether they are sitting off to the sides or center of the theater.
FABRIC BUILDING MODELS FOR CONCERT HALLS
WeatherPort produces a wide range of fabric building models for virtually any application. Below our most popular building models used to custom design a concert hall or performance venue.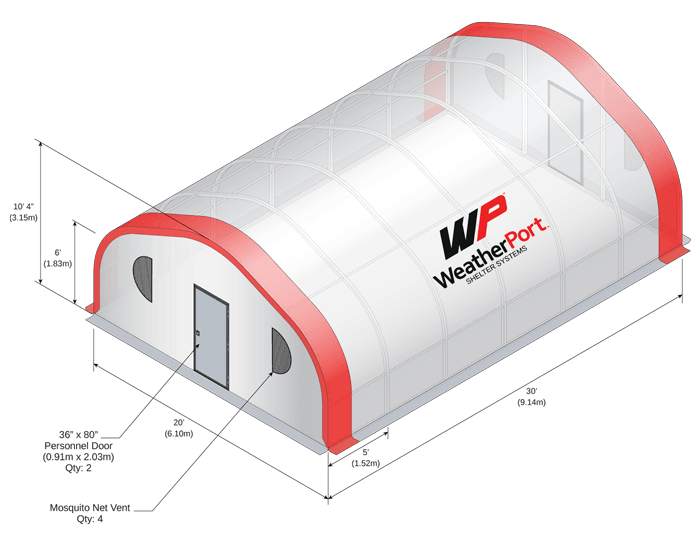 The WeatherPort HGB Series is designed with strength, durability, portability, and customization in mind. The HGB Series building system is the Swiss Army Knife® of fabric structures when it comes to designing a smaller performance venue. Within a matter of hours or days (depending on building size and degree of customization), an open-air amphitheater or outdoor theater can be transformed into an enclosed public or private concert hall.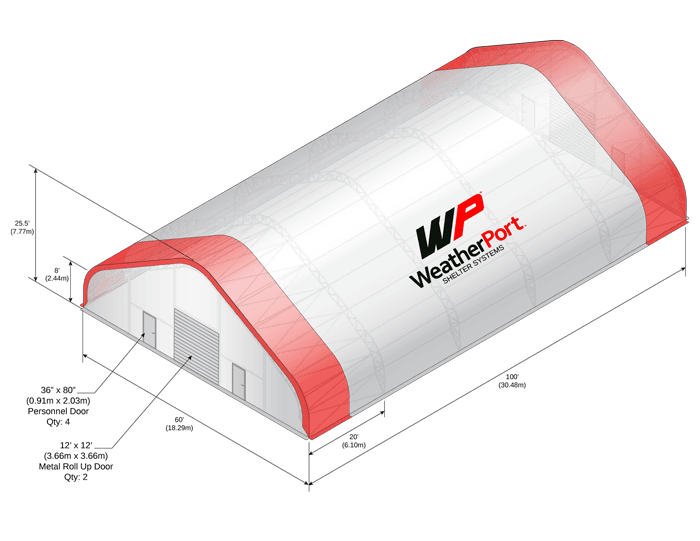 For projects requiring the design of a large concert hall, our DAGB Series can be engineered up to 150' wide, to any height, and to any length. The open span design of the DAGB Series provides maximum use of interior space, and can be customized with any selection of liner and insulation packages to help provide the desired acoustical properties.
CONTACT US TODAY TO START DESIGNING A CONCERT HALL!
WeatherPort building specialists and engineers have vast experience working with designers, acoustic consultants, and engineering firms to custom design concert halls and outdoor theaters. For more information, or to request a consultation to begin the design process, feel free to reach us using any of the methods below.