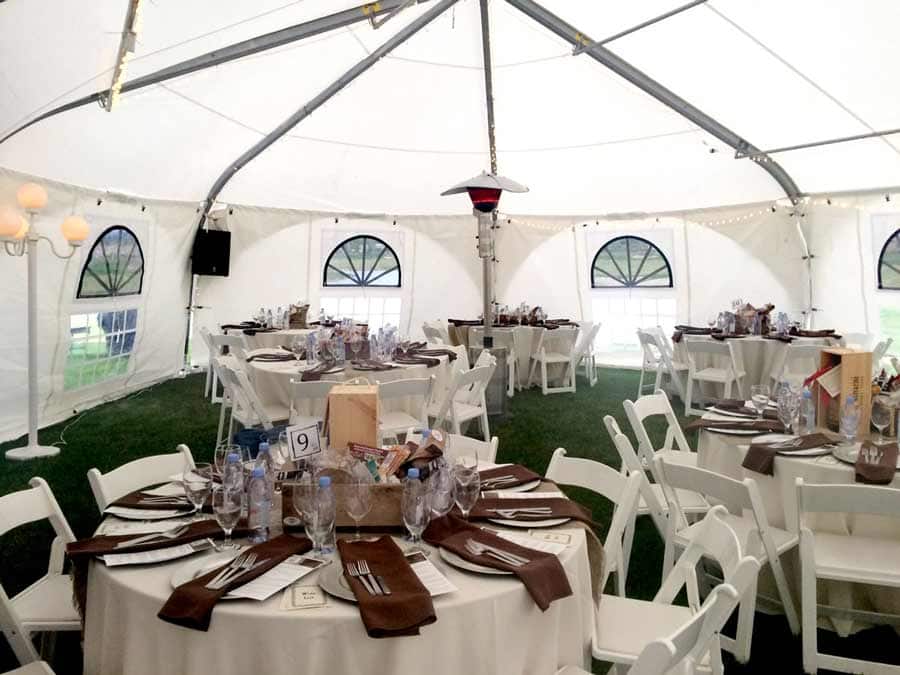 Finding the right wedding tent can be difficult. And for such an important day, party rental businesses should want to offer their customers the best outdoor tent on the market. 
WeatherPort® Shelter Systems provides high-quality fabric structures that will go above and beyond your party rental business needs. They're multifunctional, reliable, and can accommodate the ambience that such a special day deserves.
[Related: Event Planning With Outdoor Structures From WeatherPort]
What to Look for in an Outdoor Wedding Tent
Party rental businesses need a fabric structure that will last and is worth the investment. You'll use your chosen wedding tent (or tents) for multiple weddings in a range of locations. As a result, you'll need a structure that can handle different terrains, weather, and group sizes — sometimes all at the same time.
Longevity
For companies looking to provide wedding tent rentals as part of their business offerings, finding a structure that's long-lasting is vital. You'll want your tent to last for more than a handful of weddings or a single season. Luckily, WeatherPort is the leading manufacturer of engineered fabric structures, with a proven track record to back our case.
Our shelter solutions are available for use as outdoor wedding tents and can sustain year-long use for numerous decades. Unlike pop-up canopies or standard party tents that quickly wear down, ours are guaranteed to last. They're also a much safer choice thanks to our industry-leading engineers and design experts.
All of our fabric shelters can be custom ordered with powder coating so the frame system is color coordinated with the structure to blend in seamlessly, creating the look of a high-end outdoor function.
Durability
People typically use wedding tents when weather conditions are poor. As a result, you'll need a structure that can withstand a range of factors based on your clients' locations. This is especially important to keep guests safe, dry, and comfortable in extreme climates.
WeatherPort fabric structures are engineered to withstand intense winds and snow loads, tailored to the buildings codes required in your area. The tensioned fabric membranes incorporate a UV stabilizer into the material (not coated!). They also offer an unmatched capability to withstand high solar loads, prolonged exposure to extreme hot and cold temperatures, rain, wind, and snow.
Our outdoor wedding tents are also able to anchor into virtually any ground type or surface. This includes dirt, gravel, sand, concrete, and much more. So regardless of whether your client's wedding is on a beach, in a forest, or even on a backyard lawn, our structures are securely anchored to provide a greater level of safety. Our high-strength frame systems are available with aircraft-grade aluminum or galvanized steel.
When designing an outdoor structure from WeatherPort, enjoy a large selection of options. Depending on the weather, it might be useful to have enclosed walls with an ability to open if conditions improve.
Appearance
Wedding tent decorations and aesthetics are important factors when it comes to your client's big day.
Our fabric structures are customizable with available add-on options such as door panels, windows, and a wide range of side curtains to create an enclosed wedding tent — perfect for those winter weddings! You can even request a particular color for your tent or incorporate your logo or branding to promote your business.
Our shelters also have expansion capabilities if more space is necessary for tables and chairs, a dance floor, or even additional last-minute guests. Our open span designs allow for ample airflow, maximizing all interior space and minimizing crowding.
Additionally, our fabric structures are compatible with lighting and electrical needs. You'll have the option to ensure your wedding tent is well lit as well as create a beautiful ambience.
[Related: Customize Your WeatherPort Wedding Canopy]
WeatherPort Wedding Tent Options
Each wedding is a little different, so you'll need a tent that can accommodate a range of needs. WeatherPort's wedding tents will provide you with the security you need to take on any project in any location.
Whether you're looking for an outdoor wedding tent for small ceremonies, large structures for guest-abundant receptions, a series of structures fitting for photographers and photo booths, or seating areas for meals and rest, WeatherPort can match the task. Here are some outdoor tent wedding solutions to choose from.
Canopy Series
WeatherPort's Canopy Series is available in three different options. Our four-sided canopy is available in 10' x 10', 10' x 15', 10' x 20', 12' x 12', 16' x 16', and 20' x 20' sizes and has a large range of customization options.
> Want to design your own 10' x 10' canopy? Use our Custom Canopy Builder!
The six-sided Hexapae is available in 16' and 30' diameters and works great for small, medium, and large events. Whether your client's wedding has a long or short guest list, the Hexapae will do the job.
The eight-sided Octopae is our largest canopy option, available in 35' and 40' diameters. The Octopae has customizable options to include curtains on the side-entries to protect guests from rain or other adverse weather conditions. You can also leave it open to showcase venue views for guests to enjoy. Either way, airflow and space won't be a cause for concern.
Jubilee Series
WeatherPort's Jubilee Series is ideal for premier outdoor events, featuring arched side openings and an open-ended design. As one of our larger event tent varieties, it's available in 15', 16', 20', 21', 26', 30', 35' and 40' widths and any length in 10' increments, offering ample space for all wedding functions.
Smaller Jubilee sizes can comfortably hold 25 to 50 guests, while larger ones can hold as many as 300 to 2,000 people with ample space for food-serving areas, dining, stages for entertainment, dance floors, and seating space for guests. The structure can either stay open or include side curtain systems and end panel enclosements.
[Related: Guide to Procuring Equipment for Your Party Rental Business]
Contact WeatherPort for Your Wedding Tent Needs
If you're a party rental business needing high-quality fabric structures for outdoor tent weddings, get in touch with WeatherPort by calling +1 (970) 399-5909, email info@weatherport.com, or request a quote through our online inquiry form.