In the U.S., the business of summer camps is an $18 billion industry, providing memory-making experiences for over 14 million people every year. Summer camps provide participants a chance to make friends, develop skills, and discover new interests.
It's never too early to begin planning and designing the construction, improvement, or expansion of summer camp facilities. Planning ahead will enable you to submit orders for camp infrastructure and amenities in time for the next camp season.
Considerations for Planning a Summer Camp
If you are thinking about joining the over 14,000 summer camps that currently provide unforgettable experiences for millions of people, here is a guide to building or expanding a summer camp.
SUMMER CAMP PROGRAMS AND GOALS
Once you decide on the goals of your summer camp, you can plan the programs that you'll provide. For example, some camps focus on arts and crafts and some cater to horse-related activities. The possibilities are endless!
When you design classes, activities, and instruction, it's important to craft them in a way that supports your summer camp's goals and philosophy.
CREATE A SUMMER CAMP BUSINESS PLAN
Write a comprehensive summer camp business plan for all aspects of your proposed camp, making it as detailed as possible. Include an explanation of what your programs will be, as well as how you plan to staff the camp and manage operations, facilities, equipment, costs, and risk.
You should detail the first three to five years of your summer camp operation in the business plan. Explain the philosophy of your camp and the culture that you want to foster. Include your goals and the actions that you plan to take to achieve them.
KNOW THE LAWS AND REGULATIONS FOR OPERATING A SUMMER CAMP
In some states, the health department oversees summer camp operations; and in others, the cities and counties monitor them. The American Camp Association (ACA) has accreditation requirements that also serve as standards for summer camps in some states.
These rules and regulations govern things such as toilets and handwashing facilities, sleeping and living quarters, food safety and more.
In the state of Washington, for example, the Department of Health is the governing body. Based on the state's regulations, staff who work in food service need a food handler's card, camp staff need criminal background checks, and guidelines exist for pay rates that follow a set of regulations.
The ACA provides a database with the laws for all 50 states, including the District of Columbia.
TRANSPORTATION TO AND FROM SUMMER CAMP
You may need to transport your campers to and from the summer camp, to off-site events, or even within the camp itself if it's a large campus. If you plan to use vehicles in your organization, we recommend including storage and maintenance facilities for them in your summer camp business plan.
INSURANCE FOR SUMMER CAMPS
Summer camps are entrusted with the safety of participants, and they must make efforts to ensure that. Camp operators should also consider protecting themselves against liability claims. Accidents can and will happen, especially with activities such as archery, horseback riding, and swimming.
Consider insurance for your employees as well, such as worker's compensation and health insurance. The camp property will need coverage, and if your camp has vehicles, they should be insured.
Many insurance companies provide various policies designed explicitly for summer camps.
COVID-19 PRECAUTIONS FOR SUMMER CAMPS
Most summer camp activities are outdoors. However, campers will occasionally be in enclosed spaces, such as during meal times, sleeping, or even indoor group projects. During these times, COVID-19 transmission could be a risk. 
It's important to keep both staff and campers safe from infection to avoid illness, spreading the virus to family or friends when returning home, and also camp shutdowns.
Customizing your structure to maximize air flow is important for preventing virus contraction. WeatherPort® offers fabric structures that can have open-wall designs as well as windows to let air in. We also offer HVAC systems that can attach to your structures to increase air circulation.
It may also be beneficial to limit the number of campers and staff in each structure to a safe amount to prevent crowding. WeatherPort has customizable options to make your buildings longer to maximize interior space by attaching additional buildings to existing structures. This allows ample separation between beds, tables and more to increase the social distance between staff and campers.
Buildings and Facilities for Summer Camps
Your summer camp will need buildings for activities and food service, and if it's an overnight camp, you'll need housing and hygiene facilities. Depending on the type of summer camp you operate, you may need to consider buildings for the following:
Shelters for first aid and medical care
Barns, round pens, and riding arenas for animals such as horses
Group gathering space and shade structures
THE BENEFITS OF FABRIC STRUCTURES FOR SUMMER CAMPS
Whether you need to start a camp from scratch or are expanding an existing camp, fabric buildings have many benefits that can match your needs.
WeatherPort has supplied high-quality engineered fabric structures to camps all over the world, offering a level of flexibility, efficiency, and reliability that traditional buildings can't match.
Jim Roche, founder of Adventures in Youth Mission, has used WeatherPort structures for 15 years at his High Adventure Camp in southern Colorado. The seven WeatherPort structures that they use remain set up year-round at 9,000 feet in elevation.
It's not uncommon for the camp to get 150 to 200 inches of snow and to see winds over 60 miles per hour. Despite the harsh conditions, the WeatherPort camp structures are still standing. "It's a testament to their quality," says Jim.
Mr. Roche first came to know WeatherPort products when he worked with a guide service in Alaska. When he was called to his mission to build an adventure camp for kids, he remembered the quality of the camp facilities up north.
"People in the lower 49 have no idea about the conditions," but he does, and he knew that WeatherPort could handle it.
TYPES OF FABRIC STRUCTURES TO CONSIDER FOR YOUR CAMP
CAMP STRUCTURES WITH MINIMAL FOUNDATION REQUIREMENTS
Camp is intended to be an experience that puts campers in touch with nature, and keeping the surroundings as natural as possible goes hand-in-hand with that goal.
WeatherPort fabric structures have minimal foundation requirements, meaning camp operators can safely assemble and anchor their camp structures onto virtually any level surface, including dirt and gravel, sand, concrete, footers, pilings, or wood platforms with minimal impact on the environment.
Traditional buildings and camp structures made from brick and mortar, steel buildings, or wood structures require more pre-site construction and foundations, which cause disruption to the surrounding environment.
MODULAR BUILDING DESIGN FOR SEASONAL OR PERMANENT SUMMER CAMPS
Construction time is much shorter with fabric structures than brick-and-mortar buildings. WeatherPort camp structures are easy to set up and take down and don't require special equipment or expensive construction crews.
For camps that have more than one location or operate in the summer only, our portable camps and modular designed structures are a smart choice.
Alternatively, if you want permanent infrastructure, you can leave WeatherPort structures in place year-round. You'll likely save money and time since virtually no maintenance is necessary compared to traditional building systems.
CUSTOM-DESIGNED CAMP STRUCTURES
WeatherPort fabric structures are custom-designed to meet your specific camp facility and structural needs. Nearly every feature of WeatherPort camp structures can be customizable, unlike other building manufacturers that make only a handful of models in specific sizes.
Whether you need sleeping quarters, kitchen space and dining halls, or a nurse's station, our fabric structures can be designed and purposed for any building solution. You can even choose from a large selection of window and door options, flooring systems, and plug-and-play lighting and electrical systems*.
All WeatherPort fabric structures are designed according to your specifications, and engineered to meet local and international building codes for safety. So you can have peace of mind knowing your summer camp staff and guests will be safe in the event of adverse weather conditions.
WeatherPort also offers a wide range of fabric colors and patterns, or you can choose to create your own. Add your camp logo, specific lodge numbers or names, or designs to any building system.
We're one of a couple companies in the United States with high-end printers that print directly onto tensioned fabric membranes in publication-quality resolution.
Our experienced staff will assist you in custom-designing a one-of-a-kind building system that perfectly complements pre-existing camp infrastructures, or brainstorming themes for a completely new summer camp location.
YURT SERIES CAMP STRUCTURES
The WeatherPort Yurt Series are the highest-quality camp structures available. We've taken the yurt concept and converted it to a modern 21st-century building system. For instance, our yurts are engineered with a high-strength metal frame system and a long-lasting tensioned membrane for incredible durability. 
Our aluminum and steel-framed yurts are available in 12', 18', 20', 24', and 30' diameters and are open span structures, allowing for maximum use of interior space. Additionally, adding an optional loft system is a great solution to increase living space.
Unlike yurts that utilize a wood-lattice system for structural support and obstructs, WeatherPort yurts can be custom-designed with glass sliding windows, clear plastic windows, or screen windows that offer unobstructed views of the surrounding environment.
[Related: Yurts vs. Cabins: Choosing the Best Experience]
HGB SERIES CAMP STRUCTURES
Looking for a larger camp structure? The WeatherPort HGB Series is a versatile and ruggedly durable building solution that's perfect for staff and guest housing, kitchen and dining facilities, activity centers, boat houses for canoe storage, and on-site equipment storage, among many other possibilities.
The HGB Series is available in widths up to 30' feet and any length, while the "soft" gable design provides a standard side-wall height of 6 feet. However, side-wall heights can be specified for a taller structure if needed. You can even create a covered entry or porch area — ask a WeatherPort building specialist about our recessed end-panel options!
ENERGY-EFFICIENT CAMP STRUCTURES
Increase the energy efficiency of your camp structures with one of our many proprietary insulation systems. Should the nighttime temperatures drop, know that guests will be comfortable and safe inside their camp structure!
We design, engineer, and manufacture many building system features to increase comfort, including our insulation systems. Easily attach and add HVAC systems to any WeatherPort camp structure for additional temperature control.
Reduce daytime energy usage with our translucent skylight material designed to gently diffuse sunlight to create a bright interior.
DURABLE AND LONG-LASTING CAMP STRUCTURES FROM WEATHERPORT
We engineer our architectural membranes with a proprietary blend of materials designed to withstand extreme cold and hot temperatures. They also have a higher resistance to abrasion than other fabrics. They won't rot, are resistant to mold and mildew, and exceed the fire safety requirements.
Our tensioned membranes are also UV-stabilized (not coated) for superior resistance to prolonged and high solar load exposure. This allows you to use our building systems in high elevations, tropical climates, and desert climates for an extended time.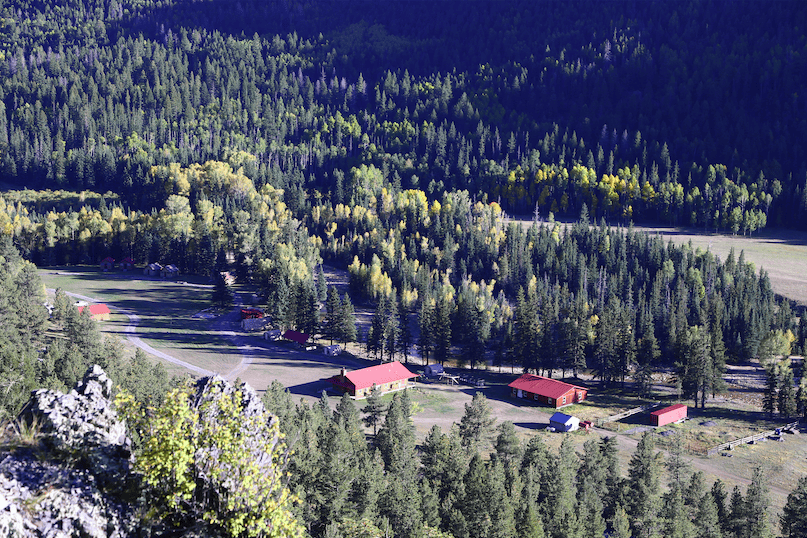 Our lightweight aluminum frames are suited for portable applications, rather than year-round.
We also offer camp structures with a high-strength galvanized steel frame. Based on the building size and codes, our specialist will assist you with selecting the best frame material.
For camps located in coastal areas with high humidity, we offer in-house powder coating in a range of different colors for corrosion resistance.
As Mr. Roche put it, "the WeatherPort product is really good." His structures have outlasted estimates given by the building specialist he worked with. "They have been standing for 15 years, and are still good," Jim says. "It is one of the few [companies] that exceed their promises… service was above and beyond expectations."
CONTACT US TO START BUILDING SUMMER CAMPS TODAY
Don't wait until the last minute — contact WeatherPort today to prepare for the upcoming camp season!
Our friendly building specialists will help you select and design the perfect structures for your camp. Call us at +1 (970) 399-5909, email info@weatherport.com, or submit an inquiry through our online contact form.
* A certified electrician may be necessary to connect the electrical distribution panel to shore power or local power utility. Please check with your local or state requirements.